BY ED MURRIETA
SAN FRANCISCO — Those who make a day of holiday shopping around Union Square and the Westfield San Francisco Centre — and, especially, those who accompany shoppers against their better judgment — often need a break. Medical cannabis dispensaries and lounges are plentiful in downtown San Francisco, and much of what you'll find reflects the best of what the city has to offer.
Even though cannabis was recently legalized for use in California by adults age 21 and over, your valid doctor's recommendation to use medical cannabis is your required  passport to holiday shopping escape at these dispensary lounges.  
Urban Pharm
Urban Pharm exudes lounge — moody lighting, groovy music and furnishings you'd swear were reclaimed from a steampunk sex club. All forms of consumption allowed — smoking, vaping, dabbing. There's a staffed dab bar featuring $5, $7 and $10 dabs.
Urban Pharm
122 10th St.
415-872-9488
urbanpharmsf.com
---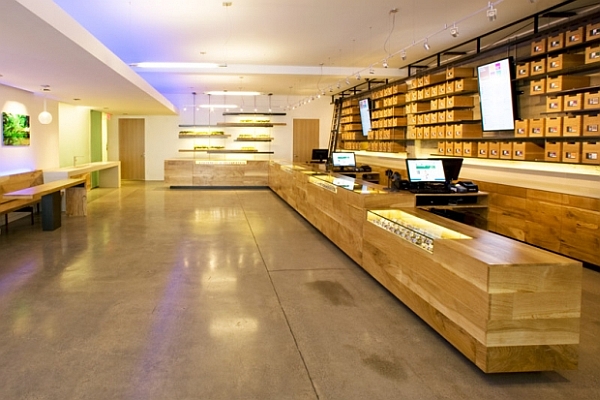 SPARC
A vape-only lounge featuring Volcano vaporizers at each of four blond wood, bench-and-table communal stations. It's the sleek-and-airy dispensary equivalent of an Apple store, but with a free self-serve hot tea bar instead of a Genius Bar. In a neighborhood that showcases San Francisco at its grittiest, sidewalk check-in makes you feel like you're clearing the line at a hot nightclub.
SPARC
1256 Mission St.
415-252-7727
sparcsf.org
---
Igzactly 420
Cozy living-room-like vaping lounge featuring five Volcano vaporizes in three separate seating areas, highlighted by a wall-sized aquarium populated by creepy fish.
Igzactly 420
527 Howard St.
415-834-5225
igzactly420.com
---
Lounge 847
If you purchase something at The Green Door, go next door to its lounge, the cavernously loungey Lounge847, which, when not being rented for private events, accommodates all forms of cannabis consumption.
847 Howard St.
415-618-0847
lounge8four7.com
---
Bloom Room
This vape-only lounge is a hip, colorful space tucked in the back of the dispensary, itself tucked behind frosted artsy red-white-and-orange panes — no neon green cross or pot leaf here telegraphing what's inside. A communal table holding two Volcano vaporizers is ringed by six tall metal stools. Two walls of comic-themed oil paintings provide decoration and entertainment.
Bloom Room
471 Jessie St.
415-543-7666
bloomroomsf.com
---
Re-Leaf Herbal Center
A large, spare space for smoking, this lounge harkens to scruffier days in San Francisco's medical cannabis scene.
Re-Leaf Herbal Center
1284 Mission St.
415-487-0420
releafherbal.com
--- Flower Power
Small, bodega-style dispensary appears to specialize in pre-rolled joints, pre-weighed bags and all-day dabs. There's a staffed, two-rig dab bar — $5 and $7  dabs open to close; $3/$5 dabs weekdays during happy hour, 4:20 – 7:10 p.m.  — but no lounge, just a couple of chairs near the door.
Flower Power
70 Second St.
(628) 444-3441
Flowerpowerdispensary.com