Friendly Farms, the Community-Minded True Full-Spectrum Cannabis Extract Artisan, Sponsors The Ugly Sweater Christmas Crawl in Downtown Sacramento on Dec. 23.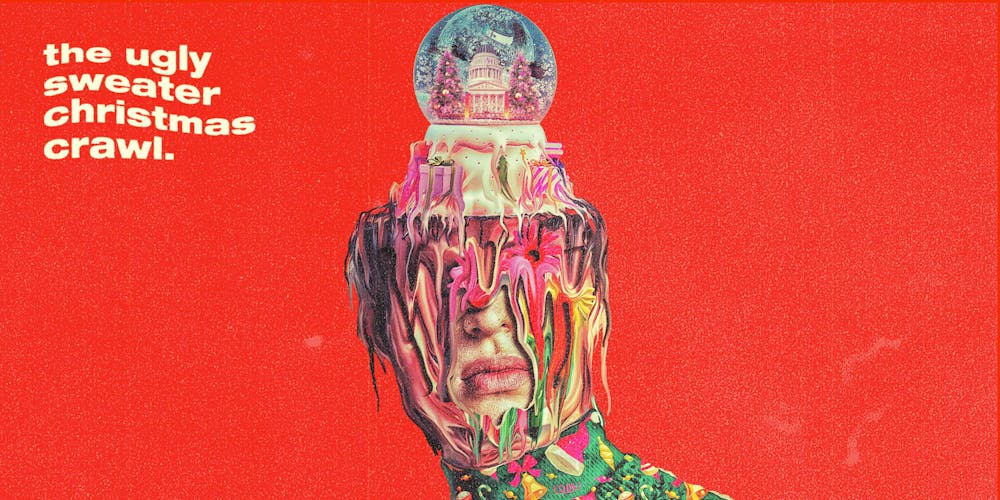 By Ed Murrieta
SACRAMENTO, Calif. — Ugly sweaters are beautiful when you wear them for good causes.
That's why Friendly Farms is proudly donning its ugliest sweater this week while doing another beautiful community deed: sponsoring The Ugly Sweater Christmas Crawl in downtown Sacramento on Sunday, Dec. 23.
All ticket sales benefit Sacramento Self Help Housing, which assists local people who are homeless or at risk of becoming homeless find and retain stable and affordable housing.
"Giving back is a big part of Friendly Farms' company culture," said Darrin Gatto, CEO of the innovative artisan cannabis extracts maker that donates portions of its its sales to charitable causes. "We value our community."
Presented by Friendly Farms in partnership with Sacramento's Downtown Partnership, events producer HOF and Downtown Sacramento Ice Rink, The Ugly Sweater Christmas Crawl features food, drinks, music and holiday activities from the winter ice rink at 7th and K streets, through the brand-new Downtown Commons to the Old Sacramento Waterfront.
Purchase wristbands for $1. You'll receive discounts at more than a dozen participating businesses and venues.
You'll also get some cool swag from Friendly Farms, the award-winning artisan producer of true full-spectrum cannabis extracts that deliver flavors, aromas and effects connoisseurs and new consumers desire from convenient, on-the-go live-resin vape pens and dabble sauces crafted from designer cannabis strains.

No Distillates, All-Natural Terpenes
Affirmed by collaborations with leading designer cannabis cultivators Alien Labs, Connected Cannabis and Sherbinski, Friendly Farms' true full-spectrum cannabis extracts stand out in a competitive market full of heat-separated distillates and pressure-separated CO2 concentrates.
Crafted from cannabis cultivated in the Emerald Triangle, Santa Barbara County and other premium growing regions in California, Friendly Farms' true full-spectrum extracts preserve native terpenes and cannabinoids of premium plants at sub-zero temperatures, ensuring natural flavors, aromas and effects are retained.
Six Friendly Farms strains placed in the top 10 of competitive categories at the prestigious Emerald Cup on Dec. 16, including its Forbidden Fruit, which won 2nd Place in the live-resin vape pen competition. Friendly Farms' Forbidden Brulee, Headband and Raspberry Kush placed 5th, 7th and 9th, respectively, in that category. Friendly Farms' Headband and Citrus Sap placed 8th and 9th, respectively, in the sauce category.
Friendly Farms' Emerald Cup accolades follow three first place victories at the High Times Cannabis Cup in Sacramento.
"Friendly Farms' liquid-live vape cartridges and sauces are 100-percent cannabis and contain no distillate or any added terpenes," Friendly Farms Chief Innovation Officer Charles Smith said. "We start with the best whole plants and finish with the best whole-plant extracts. We craft flavorful, aromatic and potent true full-spectrum cannabis extracts."
Find Friendly Farms on Weedmaps and ask for award-winning true full-spectrum live-resin vape pens and sauces at your favorite cannabis stores in Sacramento, the San Francisco Bay Area and Los Angeles.

Friendly Farms and Local Foods
While you can't consume Friendly Farms' full-spectrum extracts during The Ugly Sweater Christmas Crawl Sunday, I recommend consuming Friendly Farms' vape pens and dab sauces for pre-func and after-party pleasures.
In between, here are my recommendations for eating, drinking and more during The Ugly Sweater Christmas Crawl. Please note, any suggested pairings are inspired by Friendly Farms' menu and participating businesses' menus. If only the twain could meet.
Creamy's. Cheesecake and raspberry are a classic combination. Now imagine Cayla Jordan's creamy mini cheesecakes drenched in Friendly Farms' bright and fruity Raspberry Kush. Dig coffee and cannabis? Wrap your mouth around Friendly Farms' Headband and Jordan's favorite coffee cheesecake.
Vampire Penguin. Nothing's forbidden at this daring dessert parlor except perhaps consuming and pairing Friendly Farms' Forbidden Fruit with almost everything on Vampire Penguin's shaved snow ice dessert menu, from Halo-Halo to Mexican Candy.
Burger Lounge. The beef's grass-fed, a natural complement to the sun-grown goodness captured in all of Friendly Farms' true full-spectrum cannabis extracts.
Sauced. The name refers to the condiments that accompany smoked meats not the Friendly Farms' dab sauces that would stoke your appetite for ribs, brisket and pulled pork.
Punch Bowl Social. Sip non-alcoholic craft cocktails —Jalapeño Cucumber Limeade, Cilantro Fizz, Spiced Cranberry Soda — and imagine you could pair them with,Friendly Farms' Forbidden Fruit or Raspberry Kush vape-pen strains. 
The Pizza Press. You're not stoned. The DoCo pizza joint has a vintage newspaper printing vibe. I'll vape to that.
Pizza Rock. Gourmet pizza deserves gourmet cannabis. Any Friendly Farms true full-spectrum live-resin vape pen or dabble sauce would do. 
Tiger. Small plates — from peanuts to pickles to oysters to riblettes — are the culinary equivalent of quick pen-pen hits to get you through the night.
Coin Op. Classic video and pinball games are the perfect apres-vaping activity.
Dedicated to Giving
Friendly Farms contributes to services fighting homelessness through its community Give Back Program. Friendly Farms donates $1 from every gram sold to charity programs in Sacramento, the Bay Area and Los Angeles. All proceeds from $1 dabs and vape-pen tastings at the High Times Cannabis Cup and The Emerald Cup were donated to services combating homelessness.
"With the support of our customers and retail partners," Friendly Farms CEO Gatto said, "our community Give Back Program helps us help people facing the biggest social issues plaguing California: homelessness and the lack of youth support in our communities. We're fortunate to be able to give back."
Join Friendly Farms in Your Ugly Sweaters,
Raise Money for Anti-Homelessnes Services

WHAT: The  Ugly Sweater Christmas Crawl
WHEN: Dec. 23, 6 p.m.-midnight
WHERE: Downtown Sacramento Ice Rink at 7th and K streets Sacramento to Downtown Commons to Old Sacramento Waterfront
HOW MUCH: $1 for wristband + purchases you make
WHY: Wristband sales combat homelessness  
WHAT ELSE: Sponsored by Friendly Farms
Friendly Farms on Instagram | Friendly Farms on Weedmaps
Friendly Farms' Website  | Friendly Farms' Email 
---
Ed Murrieta is a paid marketing, media and culinary consultant to Friendly Farms.