Immerse yourself in cannabis and Instagrammable museums and art installations.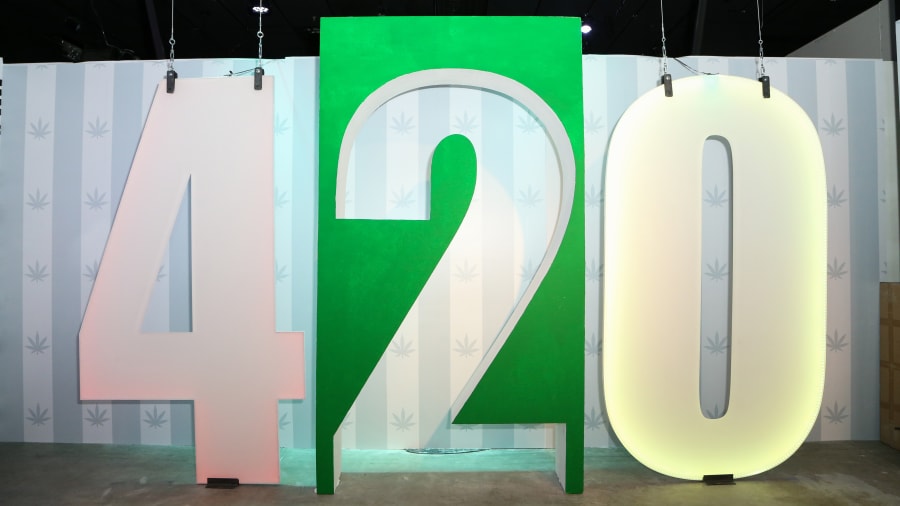 BY ED MURRIETA
If you've been to Amsterdam, you know the allure of cannabis and museums.
Whether you've visited the Rijkuseum, Sex, Stedelijk, Van Gogh or Hash, Marijuana and Hemp museums, consuming the botanical drug deepened appreciations of art and culture.
Simply staring stoned at Vincent Van Gogh's mad slathering swirls illuminating fields, flowers and famine immerses hedonistic art lovers in the visual, sensory and emotional relationships among artists, drugs and creativity.
And who didn't crave a soothing spliff after two claustrophobic minutes inside the enervating Anne Frank House?
Las Vegas is America's Amsterdam. While Sin City lacks the Dutch capital's open sex commerce and legendary smoking cafes, museums of all sorts bloom in the desert, offering visitors curated glimpses of  Las Vegas culture and history in venues dedicated to the Mob, neon signs, pinball and more.
Las Vegas' newest museum, Cannabition Cannabis Museum, celebrates cannabis in the most totally modern expression of immersive art: Instagrammability.
Here are five uniquely Las Vegas museums and art exhibitions, plus recommended cannabis pairings and social-media poses.

GO FOR: This "museum" has more in common with social-media pop-ups like Candytopia and the Museum of Ice Cream than any city's MOMA — fabricated attractions designed to attract alluring poseurs striking Instagrammable poses. Guides on hand to help you take pictures.
PAIR: Feed your head and body with hybrid strains — smokables, vapables or edibles — to get the best of both visual and sensual experiences of exhibits accented with lights and sounds.
POSE: Hug massive buds. Stick your head inside a jumbo vape pen and whiff terpenes. Fill your lungs with air from a 24-foot bong. Relax in a giant hemp seed that opens into a bed.  Get behind the wheel of the drug-transporting red convertible featured in the Hunter Thompson biopic "Fear and Loathing in Las Vegas."
HASHTAGS: #NoCannabisConsumption #Instagrammable #Interactive #GiantBong #HunterThompsonsConvertible
COST: $24.20
TIME:  11 a.m.- 9 p.m. Tuesdays-Fridays, 11 a.m.-midnight Saturdays and Sundays. Expect to spend about an hour inside. 
WHERE: Centrally located near the Fremont Street Experience inside Neonopolis the garish entertainment complex with its own Denny's and wedding chapel, 1.5 miles from Thrive, the only cannabis retail store in Las Vegas' downtown arts district.
---
GO FOR: Get up close and visual with restored and dramatically lit vintage neon and light-bulbed signs from defunct casinos, dry cleaners and other businesses of Las Vegas' luminous past.
PAIR: A few drops of potent tincture consumed shortly before entry into the outdoor boneyard will enhance your appreciation of 20th century Americana art.
POSE: Frame yourself in glowing tubes, colored lights and faded-glory frameworks.
HASHTAGS: #Neon #History #Signage #Craftsmanship #Americana
COST: Guided evening tours, $22-$26 until 10 p.m. Late-night tours until midnight, $24-$28.
TIME: Gates open at 9:30 a.m. daily and close at 11 p.m.  Mondays-Thursdays, and midnight Fridays, Saturdays and Sundays. Expect to spend about 90 minutes strolling the rock-strewn grounds.
WHERE: North of the downtown arts district. Thrive is the nearest cannabis retail store.
---
GO FOR: A big dose of old-school arcade fun. Peruse and play vintage and classic pinball machines from the 1950s to the 1990s.  
PAIR: Sativa strains sharpen focus and heighten perception — the perfect pre-game pre-func for bells, whistles, bumpers, flippers and speeding silver balls.
POSE: Put yourself in the picture with craftsmanship and pop art of more than 150 pinball machines built between 1947 to 2009 .
HASHTAGS: #Pinball #ArcadeGames #Craftsmanship #PopArt #Bells #Whistles #Bumpers #Flippers #SpeedingSilverBalls.
COST: Entry is free but machines cost 25 cents to 50 cents per play.
TIME: Opens 11 a.m. daily. Closes 11 p.m. Sundays-Thursdays, midnight Fridays-Saturdays.
WHERE: En route to McCarron International Airport and just 1 mile from The Grove, which grows its own flowers, distill its own concentrates and makes its own edibles.  
---
GO FOR: Cannabis is legal in Nevada, so get high and experience a museum dedicated to men of major vices — alcohol, gambling and prostitution — in a downtown edifice that once housed federal courts. There's a working moonshine still and speakeasy, both part of Prohibition-era exhibits about the alcohol era that preceded the Reefer Madness era.
PAIR: Something high in CBD and low in THC because if you drink alcohol, you're probably going to try the legal elixir distilled in the museum's basement.
POSE: Take video or snap stills in front of the working moonshine still. Or put yourself in a Roaring Twenties speakeasy. 
HASHTAGS: #Mob #Mafia #Alcohol #Gambling #Prostitution #Prohibition #Moonshine #OnsiteDistillery #Speakeasy
COST: $26.95.
TIME: Open 9 a.m.-9 p.m. Stay about 2 hours.
WHERE: Centrally located near the Fremont Street Experience, less than 2 miles from Thrive, the only cannabis retail store in Las Vegas' downtown arts district.
---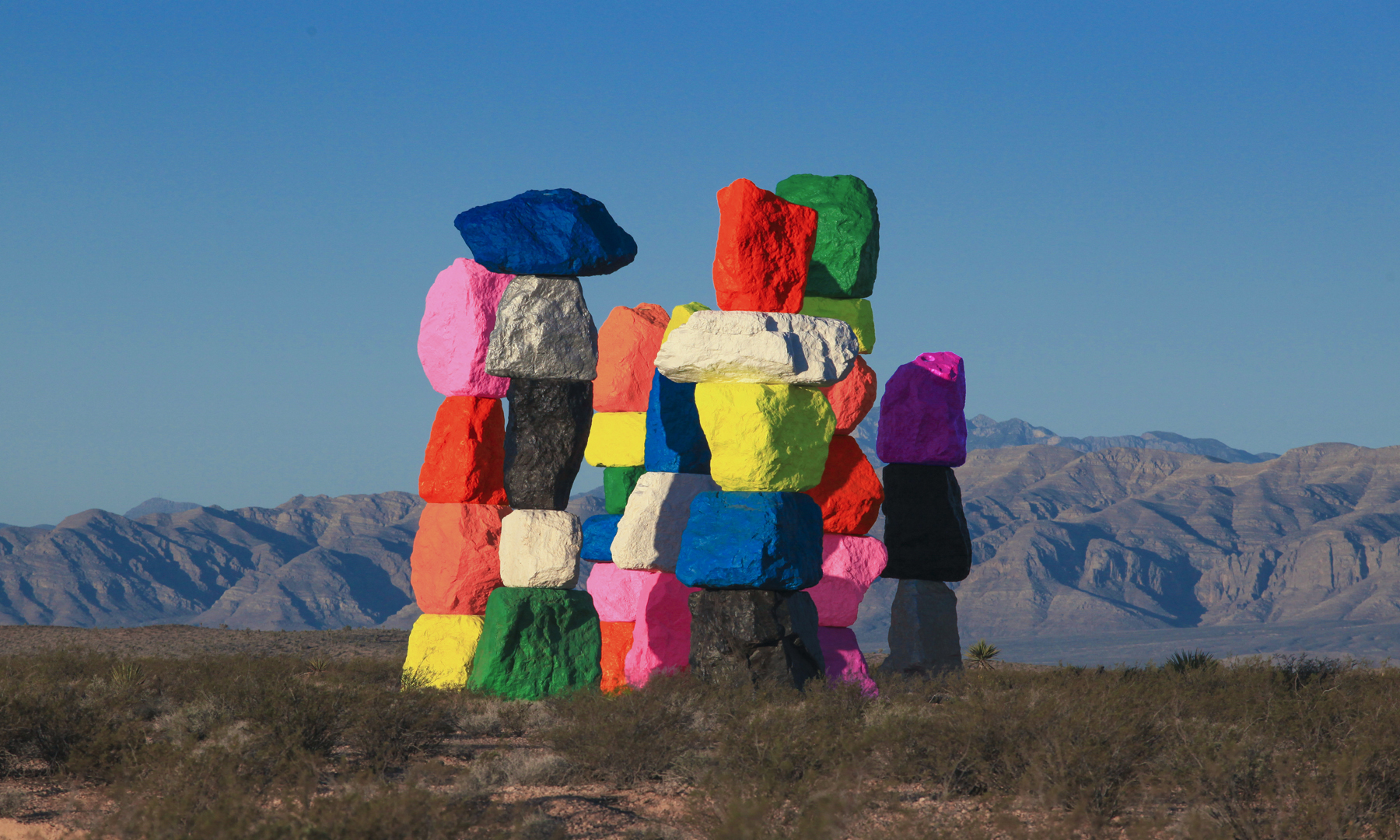 GO FOR: Seven towers of colorful stone boulders stacked more than 30 feet high in an outdoor installation by Swiss artist Ugo Rondinone that's currently scheduled to run through the end of the year in the suburban desert south of Las Vegas. Use your cellphone for guided tours in English or Spanish.
PAIR: Sativas, particularly in edibles, match the art's stoney vibrancy.
POSE: Picture yourself against giant stone towers painted primary colors.  
HASHTAGS: #LargeScaleDesertArtwork #UgoRondinone #Rocks #Boulders #Henderson #CellPhoneGuidedTours
COST: Free.
TIME: Not posted online. Go in daylight hours. Snakes come out at night.
WHERE:  About 7 miles east of Henderson, which is about 15 miles south of Las Vegas. Seven Magic Mountains is near Jean Dry Lake, where Michael Heizer and Jean Tinquely created significant sculptures in the 1960s. Nevada Made Marijuana is the nearest store.
---