Urban Pharm: Cannabis Dispensary-Lounge Meets Steampunk Sex Club
Urban Pharm
122 10th St., San Francisco
415-872-9488
urbanpharmsf.com
8 a.m.-10 p.m. daily

QUICK HIT: Urban Pharm exudes lounge — moody lighting, groovy music and furnishings you'd swear were reclaimed from a steampunk sex club. All forms of consumption allowed — smoking, vaping, dabbing. Bring your own rig or belly up to the dab bar featuring $5, $7 and $10 dabs administered by knowledgeable and friendly staff.

GO IF: If you want excellent selection of top-quality flowers, concentrates and edibles — and a place to enjoy them.

STAY FOR: Manufacturers' product demos and free samples, and open-mic comedy and karaoke.

EXPECT: Top-shelf eighths, $50. Top-shelf concentrates $50 per half-gram. House joints $7. Dabs $5, $7 and $10. Cash only. $2 ATM fee.
BY ED MURRIETA
Since the 19th century, when robber barons' wives insisted they spend their railroad riches in San Francisco, Sacramento Valley elites have aspired to the greater heights of the city.
Two San Francisco medical cannabis dispensaries match that migration. Cookies SF emerged from Sacramento's Collective Efforts, which breeds and markets the hell out of Cookies strains. Urban Pharm has roots in Sacramento's Northstar Holistic Collective, since 2010 my go-to dispensary in the state capital.
Opened in December 2015, Urban Pharm is among San Francisco's new design-intensive gilded-age cannabis dispensaries.
Quality, selection and value of Urban Pharm's flowers, extracts and edibles meet or beat other top pot shops in the city.
Urban Pharm outdoes them all, however, with an on-premises, open-flame consumption lounge where anything goes — smoking, dabbing, vaping, ediblizing, even stoner comic heckling and karaoke singing.
The prevailing trend in high-end cannabis dispensaries smacks of bespoke yogawear boutiques. Not here.
If the Power Exchange desired a template for a steampunk sex club slash cannabis store and lounge, Urban Pharm could be it in spades. Fronted by a spanking-new Edwardian-ish facade lacquered in green and black and offset by signage composed of golden-hued bulbs, Urban Pharm exudes a club-like vibe: moody lighting, caged entry, reclaimed wood and cut metal accents throughout.
Is it medical? Is it retail? Yes.
You may recognize Urban Pharm's 10th Street location as the former SF Medical Cannabis Clinic. Urban Pharm replaced that scruffy dispensary following an increasingly common real estate do-si-do that includes the sale of a property and an ensuing eviction.
Where SF Medical Cannabis Clinic was a second home to the disenfranchised living in the single-room occupancies that have given way to today's SOMA developments, Urban Pharm feels more like an office-away-from-the-office for entrepreneurs in hoodies who gather to share dabs and their latest beats. If Urban Pharm caters to workers from nearby Uber and Twitter headquarters, it happens discretely.
If Urban Pharm enforces the 20-minute time limit that signs on the the wall advertise, I saw none of it. In fact, with Urban Pharm providing electrical outlets for charging phones and powering laptops, I and everyone else I encountered in a half dozen visits overstayed the time limit with abandon.
Urban Pharm boasts a state-of-the-art HVAC system. Still, "that smell" assaults you like Macy's perfume counter when the lounge's eight bar stools and bench seating for a dozen more fills up.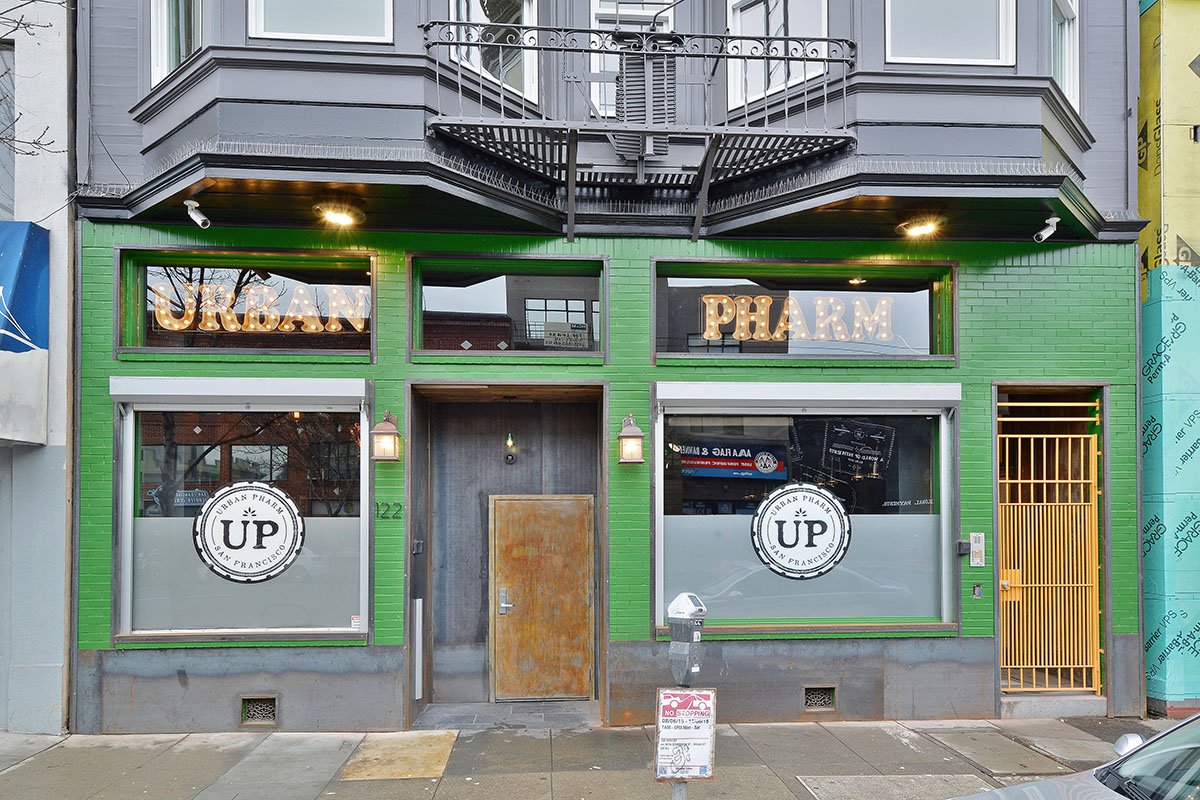 In my recent visits, Girl Scout Cookies strains dominated the top shelf. One mid-tier offering caught my attention: Skittlez, a Mendocino hybrid I encountered at a food-pot pairing event earlier this year. I have two memories of my first Skittlez: It was an amazingly effervescent high that tickled my sinuses like citrusy phosphate soda had gone up my nose, and people at the event indiscriminately scooping up Skittlez buds by the handful. Last week, I bought a gram for $15. Creative brain sparks rattled in my head like a shaken bag of hard-shelled fruit-flavored candy chews.
Dabbing super-potent concentrates may be too heady of a trip for the casual cannabis consumer. But whether you're a first-time dabber or someone whose backpack contains a glass rig, butane torch and variety-pack of shatter, wax and budder like a wide-brimmed dude dabbing next to me last week, Urban Pharm's budtenders double as dabtenders, offering advice on choosing and consuming concentrates, and, most importantly, handling everything that involves sticky substances and hot surfaces. Just press your lips to the mouthpiece and inhale.
I chose a $5 dab, extracted with propane, not the butane I was expecting at that price. The high notes were clean. The bottom notes were herbaceous. Like hitting off a Volcano vaporizer. Not bad for the price, and served with a heavy hand that yielded three good hits that held on for hours.
The $7 dabs included some fruity Brass Knuckles brand strains that I'd tasted a week earlier at a product demo. The $10 dabs included the live-resin style through which oil is extracted from buds that have been freshly harvested and immediately frozen, giving the terpene-rich oil an ice-wine intensity.
I'd like to try a dab flight for the full range of comparison.
Urban Pharm scores where it counts — at the lowest-cost item in any dispensary's display case, the joint. A $7 house cone made from the kind of leftover buds no one would enter in a weed-porn contest but which nonetheless have wonderful personality burned evenly and smoked smoothly.