Reclusive millionaire killed, no drugs found in 1992 botched raid and land theft.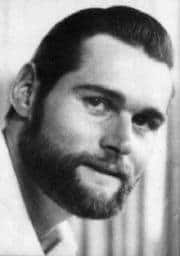 BY ED MURRIETA
California is about legalize pot. If you're not old enough to remember what it was like before medicinal cannabis became the state's quasi-legal drug of choice in 1996, you should know there were dark days in the Golden State.
Take the 1992 story of Donald P. Scott,  a reclusive millionaire and man of legends killed  by Los Angeles County Sheriff's deputies in a botched drug raid that covered up a blatant government land-seizure scheme and turned up no pot.

Yanqui Tradition: The Ballad of Donald P. Scott
By Ed Murrieta

in a box-canyon coffin
where a waterfall flowed free
greed was your badge
your lies law-decreed
load your cannons to hunt
it's a war for your rights
stormers still come a-reigning
but the field's bare tonight

you can still kill a man if you just want his land
rob every grave, every ash of a man
it's Yanqui Tradition
it's the blood on your hands

trinkets bought an island
your bullets got the rest
cast out where my father lies
my motherland death
this land is your land
but this land was mine
fenced in where we were born
shoot souls who seek home tonight

Yanqui Traditon
where your history lies
Yanqui Traditon
steal all but the sky
Yanqui Traditon
leave another lost tribe
Yanqui Tradition
thieves never apologize

in a box-canyon coffin
where a waterfall flowed free
greed was your badge
your lies law-decreed
load your cannons to hunt
it's a war for your rights
stormers still come a-reigning
but the field's bare tonight

you can still kill a man if you just want his land
rob every grave, every ash of a man
it's Yanqui Tradition
it's the blood on your hands