Binging Joaquin Murrieta: Movies, TV and Songs

BY ED MURRIETA
When you get filled up tracking Joaquin Murrieta's notorious trail via historical sites, restaurants, wine, beer, tequila and cocktail, binge-watching Joaquin Murrieta Hollywood movies and classic Western TV and picking up ear worms via Joaquin Murrieta songs, especially The Sons of San Joaquin's "The Ballad of Joaquin Murrieta," sounds pretty good.
---
RELATED
---
MOVIES
The Robin Hood of El Dorado
In this 1936 Hollywood yarn, farmer Joaquin Murrieta avenges the death of his wife against the four Americans who killed her and is branded an outlaw. The reward for his capture is increased as he subsequently kills the men who brutally murder his brother. Joining with bandit Three-Fingered Jack, Murrieta raises an army of disaffected Mexicans and goes on a rampage against the Americans, finally forcing his erstwhile friend, Bill Warren, to lead a posse against him.
---
Joaquin Murrieta
Released June 11, 1938, this hard-to-find 10-minute MGM Historical Mystery "tells the story of Joaquin Murrieta, who terrorized California in the mid 19th century with acts of robbery, arson, and murder. They were carried out in response to injustices done to the native Mexicans by Eastern settlers looking for gold. Although he is believed to have died in a shootout in the 1850's, there are those who say he lived into the 1910's."
---
Murieta!
Originally titled Joaquín Murrieta, this 1965 movie stars Jeffrey Hunter and tells the story of Joaquin Murrieta, a real-life Mexican bandit who terrorized California with his gang of raiders and cutthroats during the first half of the 19th century. Some saw him as a murderous outlaw, others as the Mexican Robin Hood.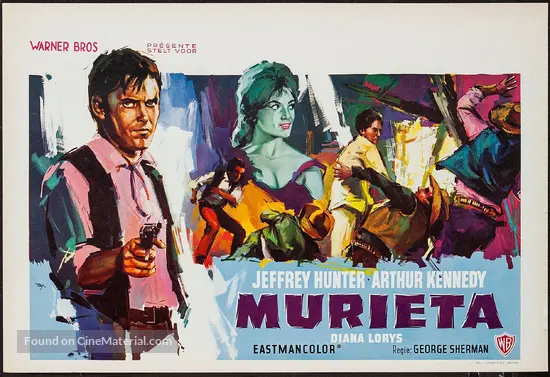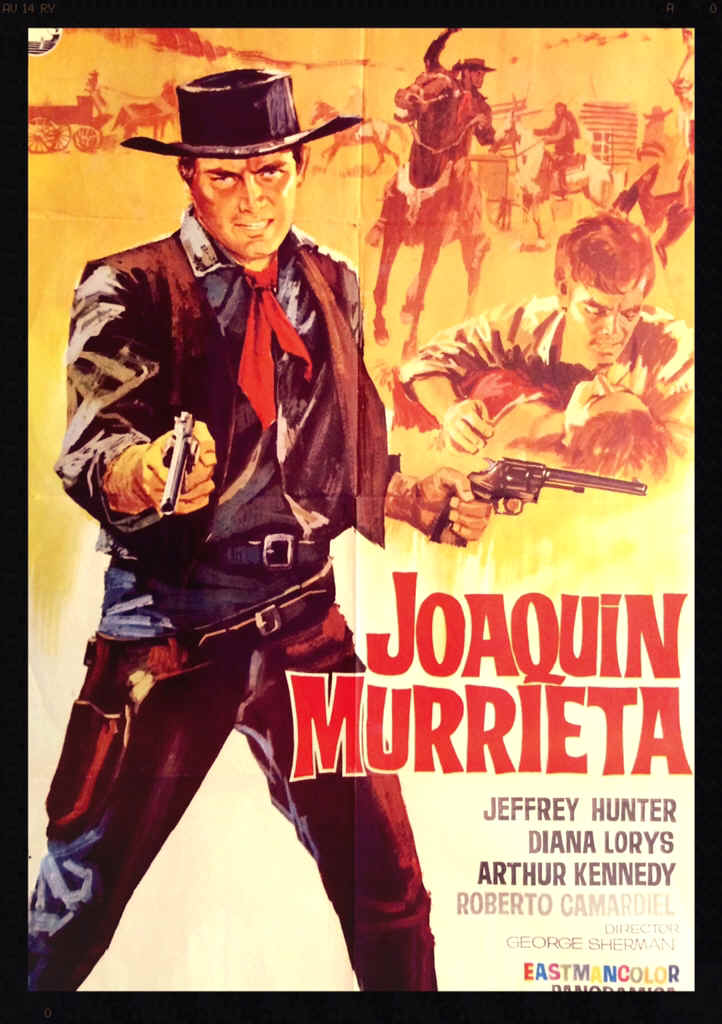 Re-titled, Revenge of Sartana for European release.
---
 The Desperate Mission
A 1969 joint project of 20th Century Fox Television, Montalban Enterprises Production, and Twentieth Century Fox Film Corporation, t
ells the vengeance story of a wealthy 19th-century California Spaniard, Joaquin Murrieta (Ricardo Montalban), who has lost his land, his wife and everything else he holds dear.
Rosey Grier and Slim Pickens are in the movie, too. The movie was renamed for this release.
---
TELEVISION
Stories of the Century
Episode of Golden Age of TV-era production Stories of the Century. Season 1 episode 13. Original air date was April 16, 1954. This series won an Emmy Award in 1955 for Best Western Adventure.  
---
Death Valley Days
Originally aired on June 7, 1955, the "I Am Joaquin" episode of Death Valley Days
portrays Joaquin Murrieta
"through the experience of Ann Dix whose husband is murdered and her child disappears, leading her to spend years searching for her daughter."
---
The Big Valley
A Barkley ranch hand is murdered. This happens shortly after the man had claimed a newly hired hand was actually an infamous Mexican outlaw. Season 3, episode 1 aired Sept. 11, 1967.
---
The Ponderosa
"The Ponderosa" is a prequel to "Bonanza." In the third episode of season 1, aired Sept. 16, 2001, Joaquin Murrieta creates havoc when he meets the Cartwrights.
---
SONGS
The Ballad of Joaquin Murrieta
by the Sons of the San Joaquin
---
The Bandit Joaquin
by Dave Stamey
---
Joaquin Murrieta
by Peter Rowan
RETURN TO TOP
---
RELATED
---