Stalking Joaquin
A descendant of Joaquin Murrieta tracks early California's most notorious legend through history, nature, wine, beer, food and a hip cross-cultural cocktail.
BY ED MURRIETA
Depending on your reading of California history, Gold Rush romance and my family's mythology, Joaquin Murrieta was the Robin Hood of El Dorado, a cold-blooded killer or the bandit creation of a mystical newspaperman with a poetic penchant.
Next month, hundreds of horsemen will embark on a 75-mile commemorative ride from Madera to Cantua Creek southwest of Fresno, the place where California Rangers killed and beheaded Joaquin Murrieta on July 25, 1853, state-sanctioned punishment for vengeful deaths and robberies spurred by events that birthed his legend: the rape and murder of his wife, his brutal beating and the theft of his mining claim.
Along with Cantua Creek, 20 locations in California and The West have historical, cultural, social-justice and even culinary and alcohol relationships with early California's most controversial figure 165 years after his death. Here's a virtual road trip on the trail of Joaquin Murrieta today.
---
RELATED
---
Stalking Joaquin
From Chile to Canada, here's a map for tracking Joaquin Murrieta's early California legacy today.
Text below is also contained in map above.
---
Hangtown
Known as Hangtown, Placerville in the mid-1800s was a law-breaking Sierra Foothills hamlet ruled by the rope, a Wild West mining camp northeast of Sacramento where Joaquin Murrieta's murder-revenge plot and social-justice crusade was sparked after more than a dozen men beat him, raped and killed his wife and jumped his mine, acts spurred by laws and racism aimed at subjugating Mexicans.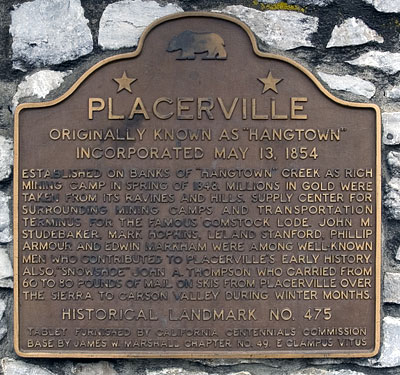 Hangtown
Placerville, El Dorado County
Off Highway 50
---
Murphys
A plaque near Alchemy, Murphys' specialty foods grocery store and wine bar, touts the Gold Rush-era Calaveras County town as the place where Joaquín Murrieta began his crimes.
Near Alchemy
191 Main St., Murphys
---
Hornitos
Founded 50 miles east of Modesto in the gold country foothills by Mexicans who were run out of a neighboring town for the crime of being Mexicans, Hornitos is today a ghost town but in its 1800s heyday was a bustling camp whose streets were lined with fandango halls, saloons and gambling dens. Joaquin Murrieta reportedly frequented the fandango halls and was rumored to have almost been captured in Hornitos in the 1850s.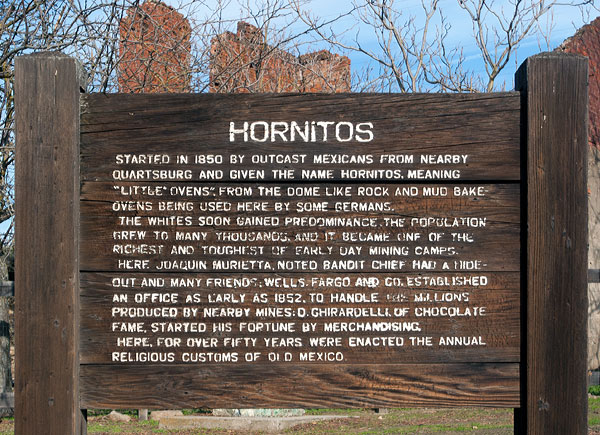 Hornitos, Mariposa County
On Highway 59
---
Murrieta's Well Winery
The notorious highwayman was also a notable horseman and while eluding vigilantes and lawmen in the Livermore Valley in the 1850s, Joaquin Murrieta watered wild mustangs here. Locals historically called the artesian watering hole Murrieta's Well, giving Philip Wente's modern-day 92-acre boutique vineyard and winery its name. A plaque in front of the old well on a grassy patch near the parking lot honors Joaquin Murrieta. Installed in 1995, the plaque is one of three historical markers erected locally by East Bay-based Joaquin Murrieta Chapter No. 13 of E Clampus Vitus, the colorful historical society. Directly above the well's spigot are hand-painted tiles depicting Joaquin Murrieta and his men herding horses. Grapes weren't planted until three decades after Joaquin Murrieta's death but Murrieta's Well's limited-production estate varietals borrow the legend's authenticity and romance.
Murrieta's Well Winery
3005 Mines Road, Livermore
murrietaswell.com
---
Brushy Peak Regional Preserve
Joaquin Murrieta reportedly hid out in caves cleaved in rocky outcroppings of land that is today 1,500 acres of public open space northwest of Livermore, boasting rolling hills, vernal pools, a bustling bird community and sacred Native American sites.
Brushy Creek Regional Preserve
North End of Laughlin Road, LivermorE
ebparks.org/parks/brushy_peak
---
Morgan Territory Road
As one local legend goes, Joaquin Murrieta buried stolen loot beneath an oak tree along Morgan Territory Road, a 14.5-mile former logging road that stretches around Mt. Diablo from Manning Road north of Livermore to Marsh Creek Road east of Clayton. No one's sure which oak tree marks the loot along the road that's now used by bikers, hikers and runners. Another local legend says a couple saw the ghost of Joaquin Murrieta on Morgan Territory Road in the 1950s.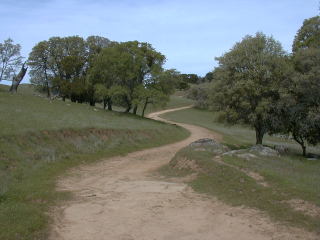 Morgan Territory Road
9401 Morgan Territory Road, Livermore
ebparks.org/parks/morgan

---
Clayton Historical Plaque
The first historical plaque honoring the Gold Rush legend was erected by Joaquin Murrieta Chapter No. 13 of E Clampus Vitus in 1976 and re-dedicated in 1986, 1996 and 2006. The marker is outside the Clayton Historical Society in the picturesque town studded with historical markers. This marker reads: "Born in Mexico in 1832 the renowned 'Robin Hood of the El Dorado' spent his early days in California working in Contra Costa County as a vaquero before turning bandit."
E Clampus Vitus Marker
6101 Main St., Clayton
---
Old Marsh Creek Springs Park
Another of Joaquin Murrieta's Contra Costa County hideouts, this site was commemorated in 2015 by by E Clampus Vitus with a plaque that notes Old Marsh Creek Springs, now privately operated as a manicured park and special-occasion events center, was a favorite haunt of another California historical figure, John "Grizzly" Adams.
Old Marsh Creek Springs Park
12510 Marsh Creek Road, Clayton
oldmarshcreeksprings.com
---
Cantua Creek
This dusty Central Valley town 40 miles southwest of Fresno is where Joaquin Murrieta was reportedly killed by California Rangers on July 25, 1853. Cantua Creek is the site of an annual picnic culminating the Joaquin Murrieta Horsemen's Ride each summer.
Cantua Creek, Fresno County
East of Interstate 5 and Highway 33
---
Joaquin Murrieta's Head
In the late 1800s, the severed head of a dark-skinned, black-haired mustachioed man preserved in a jar of alcohol toured California. After making the rounds of San Francisco's King's Saloon, Golden Nugget Saloon and Shear's Saloon, the purported head of Joaquin Murrieta landed in Dr. Jordan's Pacific Museum of Anatomy and Science, a 19th century "anatomical museum," a genre that no longer exists but which once served quasi-pornographic, quasi-scientific, quasi-freak show functions. The museum's location was destroyed in the 1906 earthquake and Joaquin Murrieta's alleged head is believed to have been lost in a pile of rubble.
Dr. Jordan's Pacific Museum of Anatomy and Science
1209 McAllister St., San Francisco
---
Capt. Harry Love's Grave
California's first top statewide lawman, the California Ranger who led the government-sanctioned hunting party that reportedly killed Joaquin Murrieta, is buried at Mission City Memorial Park cemetery in Santa Clara. His inscribed gravestone, noting the love-triangle cause of the gunshot that killed him, was erected by E Clampus Vitus' Joaquin Murrieta Chapter No. 13 in 2003.
Mission City Memorial Park
420 N Winchester Blvd., Santa Clara
---
Casa Joaquin House
The social-justice angle of Joaquin Murrieta's vengeance-killing legend endures at Casa Joaquin House, a co-op founded in 1970 to provide housing, food, academic support and peer counseling for first-generation, low-income Mexican-Americans attending the University of California, Berkeley. Currently, 38 students live and study at Casa Joaquin House.
Casa Joaquin House
2336 Piedmont Ave., Berkeley
greenlining.org/leadership-academy/programs/casa-residency
---
Joaquin Murrieta Cocktail
Joaquin Murrieta may have been born in Chile, not Mexico as widely believed. So don't expect a cocktail at a hip regional Mexican restaurant in Berkeley to resemble a margarita. Indeed, Comal's Joaquin Murrieta cocktail — 1 part peppery tequila, 1 part sweet Italian vermouth and 1 part bitter Italian herbal liqueur, shaken and served over ice — may stump and please members of E Clampus Vitus, the fraternal organization that's either a historical drinking society or a drinking historical society but which nonetheless toasts Joaquin Murrieta most.
Comal
2020 Shattuck Ave., Berkeley
comalberkeley.com

---
Joaquin Murrieta Chile Pepper Beer
Employing the same name of a Mexican tequila honoring Joaquin Murrieta, Wanted, from Fresno microbrewery Tioga-Sequoia Brewing Co., honors Joaquin Murrieta's hot mythology with local Fresno chiles, habaneros, serranos and jalapeños, resulting in a crisp and spicy lager accented with biting hops and peppers.
Tioga-Sequoia Brewing Co.
745 Fulton St., Fresno
tiogasequoia.com
---
Sauer Adams Adobe
This two-story Monterey-style adobe is one of the oldest buildings in San Luis Obispo, another of Joaquin Murrieta's reported hideouts.
Sauer Adams Adobe
964 Chorro St., San Luis Obispo
---
Olivas Adobe Historical Park
Joaquin Murrieta was reportedly the leader of the bandits who robbed one of Ventura County's richest ranchers in the 1850s. Some visitors today comb the park's grounds with metal detectors, hoping to find buried gold from the infamous robbery.
Olivas Adobe Historical Park
4200 Olivas Park Drive, Ventura
olivasadobe.org
---
Camulos Ranch
Originally known as Rancho San Francisco, Camulos Ranch in Ventura County was part of a 48,000-acre Spanish land grant in the early 1800s. The ranch was a stopover for nuns and priests traveling between missions, as well as the occasional outlaw like Joaquin Murrieta, who allegedly hid loot-filled saddlebags at the ranch's winery.
Camulos Ranch
5164 E Telegraph Road, Piru
ranchocamulos.org
---
Eating It All Up
The Joaquin — one chile verde pork tamal, one beef taco and one cheese enchilada, plus, rice, beans, salad and tortillas, all dinner staples of Joaquin's Sonora, Mexico, homeland — was the most popular combination at my parents' Murrieta Restaurants in Rancho Cordova and Sacramento in the 1980s and 1990s. Today, the closest dish resembling The Joaquin is El Macho, a combination of the same mains and sides my parents served, at Murrieta's Restaurant and Cantinas, restaurants my parents founded and sold in the 1990s in Sparks and Reno, Nev. Murrieta's, a family Mexican in Bonita near San Diego, doesn't feature such a three-item combo, but no matter: Its menu graphics portray Pancho Villa, not Joaquin Murrieta. Meanwhile, Joaquin Murrieta probably never ventured as far north as Alberta, Canada, but two Murrieta's West Coast Bar & Grills in the province play up his picaresque appeal if not exactly capturing his ethnic flair, an accent totally missed at Joaquin's Saloon and Steakhouse at the private Rancho Murieta development near Sacramento.  
Murrieta's Restaurant and Cantina
3060 Vista Blvd., Sparks, Nev.
8195 S Virginia St., Reno, Nev.
murrietasrestaurants.com
Murrieta's
5170 Bonita Road, Bonita
murrietasbonita.com
Murrieta's West Coast Bar & Grill
808 1 St. SW #200, Calgary, Alberta, Canada
737 8 St., Canmore, Alberta, Canada
murrietas.ca
Joaquin's Saloon and Steakhouse
7000 Alameda Drive, Rancho Murieta
ranchomurietacc.com
---