BY ED MURRIETA
SAN FRANCISCO — Got a bud-loving bae who insists on pot as a prelude?
She's right.
"When you have a smoke sesh with someone, it's a great bonding experience," says passionately pro-pot dating expert Molly Peckler.
Whether you're looking for your cannabis love connection or just a hopped-up hookup in San Francisco's sexiest dispensary lounges this Valentine's Day,  you'll surely take precautions, and especially in public smoke-sesh situations. Foremost because the valid California medical cannabis recommendation you need to carry to keep things legal here protects you like a prophylactic pot passport.
But more importantly because cannabis compatibility is a prerequisite for successful relationships under the influence. Your taste for old-school joints and his thing for high-tech vape pens could snuff out what might otherwise be true love.
You'll know other deal breakers — like when he over-compensates with elaborate bongs, or when she dumps the contents of the Volcano chamber when the weed contains more good hits.
Of course, you'll recognize your stoner soul mates should you meet cute over cannabis. If so, may the cherries on your doobies burn hot and long.
Here, then, are seven places where you can blaze, dab or vape your Valentine's Day hearts content in  the pot-lovingest smoke-sesh city by the bay.
LUSTY SESH
Urban Pharm
Urban Pharm exudes lounge lust — moody lighting, metalwork accents and warn wood furnishings you'd swear are reclaimed from a steampunk sex club. All forms of consumption allowed — full-flame joint and pipe smoking, bring-your-own-rigs vaping and dabbing, even stoner open-mic and karaoke nights. There's a staffed electronic dab bar featuring concentrates of different flavors, effects and price points. Try the twin rigs for side-by-side dabbing with your date., For more intimacy, share a single rig and alternate hits.  
---
SLEEK SESH
SPARC
Make yourselves cups of tea and then make conversations over Volcano bags at this vape-only lounge featuring state-of-the-art, easy-to-assemble-and-clean digital vaporizers at each of four blond wood, bench-and-table communal stations. It's the chic and airy dispensary equivalent of an Apple store. Sidewalk check-in makes you feel like you're clearing the line at a hot nightclub.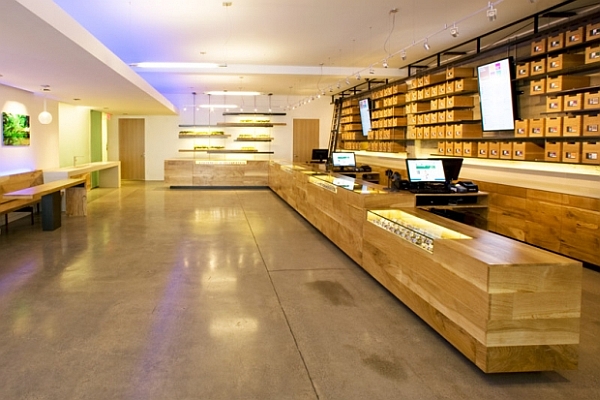 ---
PRIVATE SESH
Harvest on Geary & Harvest off Mission 
Impress your date with your net worth, or at least your ability to put Harvest's triple-digit monthly membership fee on your platinum credit card. An elevated version of San Francisco's exclusive social clubs and lounges like The Battery and Wingtip, Harvest's two locations offer private lounge access and concierge service in posh pot parlors. (Non-members may attend curated "farmers market" sales events. )
---
MENAGE A SESH
Lounge 847
Located on the third floor of the building next door to The Green Door dispensary, Lounge 847 is at least three lounges in one. Settle in by the front window for urban nightclub ambiance. Hang in the back by the pool table, near the private lounge entrance. Or sit somewhere between, where comfy couches, sturdy tables and chairs, big-screen televisions  and skylights suggest a decade-old great room in a liberal arts college.  Vaporizers and bongs for loan. Buy something at The Green Door before asking for the freight lift upstairs.
---
NERD SESH
Bloom Room
If two walls of comic-themed oil paintings  don't lifehack your lovelife from the awkward silences sure to ensue when two nerdy stoners meet at this vape-only lounge. Bloom Room's iTunes emojis app, the first from a California dispensary, just might. Hip and colorfully tucked in the back of the dispensary, Bloom Room itself is tucked in an alley behind frosted artsy red-white-and-orange panes — no neon green cross or pot leaf here telegraphing what's inside. A communal table holding two Volcano vaporizers is flanked by tall metal stools, like a communal workspace without the coffee. 
---
QUICKY SESH
Flower Power
Small, bodega-style dispensary on a busy street corner appears to specialize in pre-rolled joints, pre-weighed bags and all-day dabs. There is no lounge, just easy, come-and-go access to a staffed, two-rig electric dab bar.  $5 and $7 dabs open to close; $3/$5 dabs weekday happy hour, (4:20 p.m. to 7:10 p.m. ) ---
PUBLIC SESH
In California,  it's legal to smoke medical cannabis anywhere it's legal to smoke cigarettes. Maritime Plaza is one of my favorite public spaces for a downtown smoke sesh, steps away from the Embarcadero Center towers. Sculpture gardens dot the grounds that surround a visually vexing, 25-story office tower crossed with seismic trusses and braces.  The Transamerica Pyramid pokes through the Financial District skyline.  Benches and hedges abound. This one time, a security guard interrupted my solo smoke sesh. At his request, I whipped out my Prop. 215 card.  We thanked each other. He left. I resumed my toking task at hand.
---