One of the city's medicinal cannabis lounges will be America's first recreational pot lounge when adult-use cannabis sales start Saturday.
ED MURRIETA
SAN FRANCISCO — The first pot lounge in America will not open in Denver.
The first pot lounge in America will not open in Las Vegas.
Forget about Alaska, Maine and Massachusetts, too.
The first pot lounge in America is already open in San Francisco.
On Saturday, when San Francisco medicinal cannabis dispensaries are expected to transition to the adult-use recreational market, it'll be official.
There are eight pot lounges in California's historically progressive cannabis capital, all currently operating inside or adjacent to dispensaries, providing the city's medicinal cannabis consumers comfortable and safe environments to smoke, vape, dab and socialize — the holy grail of every pothead who's ever heard of Amsterdam.
"We have eight existing lounges in the city, and they will be able to continue operating in 2018," San Francisco's Office of Cannabis director Nicole Elliott said.
Permitted for more than a decade and tolerated since the earliest days of the city's medicinal cannabis community, San Francisco dispensary lounges are models of public cannabis consumption.
Whichever dispensary/lounge receives its temporary adult-use retail sales permit from the state — all San Francisco dispensary/lounges reportedly await city permits, the first step in the permit process before permits are granted — will be the first licensed, on-premises consumption lounge in an adult-use recreational cannabis state, leaving Las Vegas, Denver, Alaska, Maine and Massachusetts all playing for second.
There's at least one more cannabis store/lounge on the way. The Vapor Room opened in the Haight-Ashbury neighborhood in 2003 and was shut down by the federal government in 2012. The Vapor Room was cleared to open as a medicinal dispensary/lounge and is now under construction in a new location downtown with an eye toward the recreational market.
"The lounges are like a civic water cooler where people gather and build relationships and community," said Lloyd Francis, a San Francisco novelist who frequented The Vapor Room on Haight Street. "I have met many close friends at San Francisco cannabis lounges."
Cannabis lounge proposals have been pursued, with limited success and the requisite fits, stops and starts, in Las Vegas, Denver, Alaska, Maine and Massachusetts.
America, meet your first legal pot lounges.*
*Pending city and state permits.
A Tour of San Francisco Dispensary Lounges
San Francisco lounges are, to varying degrees, models for socialized public consumption of cannabis, providing convenient and safe environments to smoke, vape, dab and interact with other people who are enjoying the same things. Atmospheres at different dispensary lounges range from Apple -store sleek to frat-house chic. Many are bright, airy and colorful; at least one, however, feels like a cramped dope den. Some feel and function like community centers. One validates parking. Upper-end lounges provide state-of-the-art vaporizers and quartz-glass dab rigs. Some rules in flux. Expect to make a minimum purchase.
BARBARY COAST COLLECTIVE
952 Mission St.
barbarycoastsf.org
San Francisco's newest and most decadent cannabis lounge steps back in time and leaps into the future. behold: handsome dark wood, stained-glass chandeliers, crimson flocked-velvet brocade wallpaper and maroon diamond-tuck padded leather banquettes evoking classic San Francisco steakhouses and a name that pays homage to the bawdiest of all the city's districts — the historic late-1800s 'hood famous for gambling, drinking, whoring and hash-eating. Vape from quartz-glass dab rigs, borrow futuristic flowers-and-concentrates VapeXhale vaporizers, burn bowls or smoke joints.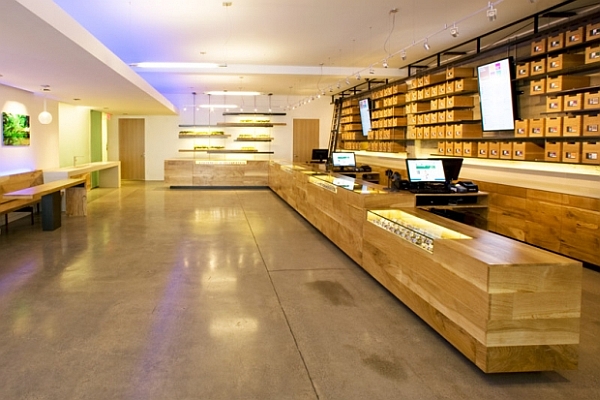 SPARC
1256 Mission St.
sparcsf.org
A vape-only lounge featuring Volcano vaporizers at each of four blond wood, bench-and-table communal stations. It's the sleek-and-airy dispensary equivalent of an Apple store, but with a free self-serve hot tea bar instead of a Genius Bar. In a neighborhood that showcases San Francisco at its grittiest, sidewalk check-in makes you feel like you're clearing the line at a hot nightclub.
URBAN PHARM
122 10th St.
Urbanpharmsf.com
Urban Pharm exudes lounge — cozy space moody lighting, groovy music and furnishings you'd swear were reclaimed from a steampunk sex club. All forms of consumption allowed — smoking, vaping, dabbing. There's a staffed dab bar featuring $5, $7 and $10 dabs. Check out comedy and karaoke nights.
LOUNGE 847
847 Howard St.
lounge8four7.com
If you purchase something at The Green Door, go next door to its lounge, the cavernously loungey Lounge 847, which, when not being rented for private events, accommodates all forms of cannabis consumption.
BLOOM ROOM
471 Jessie St.
bloomroomsf.com
This vape-only lounge is a hip, colorful space tucked in the back of the dispensary, itself tucked behind frosted artsy red-white-and-orange panes — no neon green cross or pot leaf here telegraphing what's inside. A communal table holding two Volcano vaporizers is ringed by six tall metal stools. Two walls of comic-themed oil paintings provide decoration and entertainment.
IGZACTLY 420
527 Howard St.
igzactly420.com
Cozy living-room-like vaping lounge featuring five Volcano vaporizes in three separate seating areas, highlighted by a wall-sized aquarium populated by creepy fish.
RE-LEAF HERBAL CENTER
1284 Mission St.
Releafherbal.com
A large, spare space for smoking, this lounge harkens to scruffier days in San Francisco's medical cannabis scene.
1944 OCEAN COOPERATIVE
1944 Ocean Ave.
Small vape bar with Volcanoes and other tools for consuming concentrates. Hashish connoisseurs come here for high-end extracts that cost up to $100 per gram.