San Francisco Cannabis Lounges Reviewed and Mapped
Barbary Coast, Urban Pharm, Lounge 847 and ReLeaf Herbal serve recreational cannabis consumers in the heart of hotels, museums, entertainment and shopping.
BY ED MURRIETA
America's first legal cannabis lounge will not open in Denver. America's first legal cannabis lounge will not open in Las Vegas. Forget about Alaska, Maine and Massachusetts, too. America's first legal cannabis lounges are already open in San Francisco.
Permitted for more than a decade and tolerated since the earliest days of the city's medicinal cannabis community in the 1990s, San Francisco cannabis lounges are models of public use in social settings. They're now serving the city's legal adult-use recreational cannabis market.
Here they are, reviewed and mapped.
Barbary Coast
Designed to evoke San Francisco's past, Barbary Coast reflects the city's future. This is San Francisco's most decadent and most high-tech lounge, featuring an enclosed smoking room, separate dab bar and state-of-the-art ventilation systems that exceed city requirements. Borrow high-end VapeXhale vaporizers, quartz-glass dab rigs and electronic nails. The staff's trained to educate customers about flowers and concentrates and to monitor for over-consumption. All of this steps away from the city's world-class hotels, museums, entertainment and shopping.  The lounge is accessible only through the retail store and its friendly layers of security and ID checks — and only after you've purchased something (joint, flower, concentrate, edible) from the handsome darkwood retail bar. Barbary Coast's exposed brick walls,  stained-glass chandeliers, flocked-velvet wallpaper and lipstick-red leather banquettes evoke classic San Francisco restaurants and bordellos where young Mark Twain or a modern-day tech titan might drop by to get high. That gentle sucking sound beneath your seat? That's part of Barbary Coast's smoke-scrubbing ventilation systems that keep the room and your clothes from smelling like stoners' burned pot. A sign warns against consuming cannabis not purchased at Barbary Coast.
Barbary Coast
952 Mission St.
415-243-4400
barbarycoastsf.org
---
Urban Pharm
Enjoy all forms of consumption  — smoking, vaping, dabbing  — in an intimate space accented with furnishings you'd swear were reclaimed from a steampunk sex club.  Urban Pharm is among San Francisco's new design-intensive, gilded-age cannabis stores.  While the prevailing high-end trend smacks of bespoke yogawear boutiques. Urban Pharm vibes  clubby: moody lighting, caged entry, reclaimed wood and cut metal accents throughout, feeling more like an office-away-from-the-office for entrepreneurs in hoodies who gather to share dabs and their latest beats. If Urban Pharm enforces the 20-minute time limit that signs on the the wall advertise when you enter the lounge after making your purchase at the well-stocked retail counter, I saw none of it. In fact, with Urban Pharm providing electrical outlets for charging phones and powering laptops, patrons overstay the time limit with abandon. Dabbing super-potent concentrates may be too heady of a trip for casual cannabis consumers, but whether you're a first-time dabber or someone whose backpack contains a glass rig, butane torch and variety-pack of shatter, wax and budder (like a lot of the wide-brimmed regulars here) Urban Pharm's budtenders double as dabtenders, offering advice on choosing and consuming concentrates, and, most importantly, handling everything that involves sticky substances and hot surfaces.  Urban Pharm boasts a state-of-the-art HVAC system. Still, "that smell" permeates like the Macy's perfume counter when the lounge's eight bar stools and bench seating for a dozen fills up.
Urban Pharm
122 10th St.
415-872-9488
urbanpharmsf.com
---
Lounge 847
Located on the third floor of the building next door to The Green Door cannabis store, Lounge 847 is at least three lounges in one big room. Settle in by the front window for black-couch urban nightclub ambiance. Hang in the back by the pool table, near the private lounge entrance for a competitive view of the action. Or sit somewhere between, where comfy couches, sturdy tables and chairs, big-screen televisions  and skylights suggest a the suburban rumpus room of stoner dreams.  Vaporizers and bongs for loan, plus rolling papers for use.  Hungry? Thirsty? There are vending machines. You can only access Lounge 847 after buying something at The Green Door. Ask for a staff member to give you a lift upstairs (and back down) on the hand-cranked freight elevator  or face three flights of steep stairs. Generous two-hour time limits are stringently enforced. Like Barbary Coast, Lounge 847 is located conveniently close to Union Square, Yerba Buena Gardens, Moscone Center, the Intercontinental Hotel and the Westfield San Francisco Center shopping mall.  Lounge 847 is a popular private event rental space so evening hours may be limited. 
Lounge 847
847 Howard St.
415-618-0847
lounge8four7.com
---
ReLeaf Herbal Cooperative
ReLeaf's lounge is a large, spare space for smoking that harkens to scruffier days in San Francisco's cannabis scene, perfect for a hard-scrabble clientele in a neighborhood that still vibes skid row.
Re-Leaf Herbal Collective
1284 Mission St.
415-487-0420
releafherbal.com

---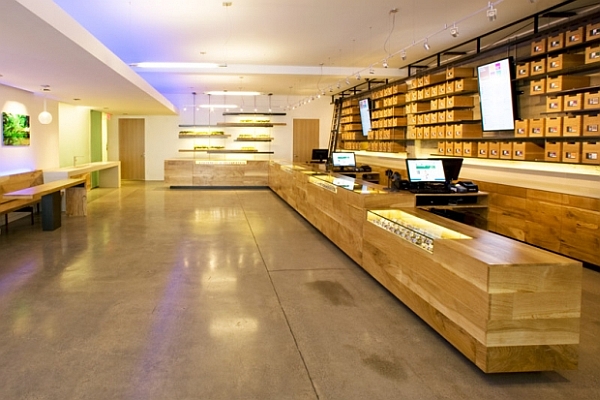 SPARC
A mostly vape-only lounge featuring Volcano vaporizers at each of four blond wood, bench-and-table communal stations, SPARC currently serves only medicinal customers as it awaits its state permit. SPARC is the sleek-and-airy dispensary equivalent of an Apple store, but with a free self-serve hot tea bar instead of a Genius Bar. In a neighborhood that showcases San Francisco at its grittiest, sidewalk check-in makes you feel like you're clearing the line at a hot nightclub. Currently serving medicinal customers only as it awaits its adult-use retail permit from the state. Beyond great cannabis grown in the Sonoma-Mendocino region, one of SPARC's amenities is its self-serve hot tea bar, a reminder and humbler to San Francisco that its cannabis lounges lack the full-service perks many people associate with Amsterdam cafes when they think of social consumption. Oh, yeah: By mostly vape-only, I mean SPARC's lounge is open for smoking joints, bongs and bowls Fridays, Saturdays and Sundays 8 p.m.-10 p.m.

SPARC
1256 Mission St.
415-252-7727
sparcsf.org
---
The Vapor Room
Shut down by the federal government in 2011, The Vapor Room is preparing to re-open in a new location.
The Vapor Room
79 9th St.
415-621-2100
vaporroom.com
---
Harvest on Geary and Harvest off Mission
Elevated versions of San Francisco's exclusive social clubs like Villa Taverna, The Battery and Wingtip, Harvest's two retail cannabis stores double as posh pot parlors that provide private lounge and concierge services. Monthly memberships cost triple digits. Members must be approved by management. (Non-members may shop at the stores and attend curated events but can't enjoy the lounges.)   
Harvest on Geary
4811 Geary Blvd.
415-702-6767
harvestshop.com
Harvest off Mission
39 29th St.
415-814-3519
harvestshop.com