Las Vegas cannabis tourism is a roll of the dice
two months into recreational pot legalization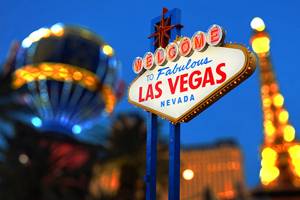 BY ED MURRIETA
In the struggle for cultural commercialization and mainstream acceptance of cannabis, Sin City straddles miracle and mirage.
In less than three years since Nevada voters authorized medical cannabis, this oasis of indulgence has blossomed into a vertically integrated capital of cultivation, processing, manufacturing and retailing packaged for the masses amid glitz, glam and government regulations as keenly choreographed as Cirque du Soleil.
Thanks to voter approval in November and fast-tracked retail sales that began July 1, weed's now legal for adult recreational use in Nevada, joining gambling and prostitution on the list of activities adults can enjoy in the Silver State but go to jail for elsewhere.
But is the Nevada pot experience attainable in toto? Is Las Vegas ready for its pot prime time?
You can buy pot on The Strip — from a boutique whose name sounds like a showgirl's: Essence. But odds are overwhelmingly stacked against any pipe dreams of toking up at gaming tables, where cigarettes are legal, or in rooms and suites or poolside at major casino-hotels.
Cannabis no longer carries the threat of 20 years in Nevada state prison for possession or life behind bars for sales. But openly enjoying pot in Sin City is still shady, fueled by casinos' fealty to federal regulators' mandate to oppose pot, which, after all, is legal only at the state level in Nevada, one of eight American states that embrace the recreational reality of the controversial botanical drug.
You can't legally smoke a joint, burn a bowl, hit a bong, vape a pen, do a dab, consume an edible or insert a pot suppository anywhere in the state, except in private residences and private buildings with owners' permission, never mind Nevada's live-and-let-live libertarian leanings.
Of course, only you and your budtender know if the gummy candies you're gobbling at The Cosmopolitan contain cannabis, and people do indeed pass off their vape pens for e-cigarettes in some venues. But smoke pot on The Strip or on hotel-casino-resort property and face a $600 ticket, a $250 room-cleaning fee or outright ejection.
"Lots of tourists are purchasing marijuana and going to concerts and nightclubs but they have to consume it surreptitiously," said Nevada's leading pro-cannabis state senator, Tick Segerblom, a Las Vegas Democrat whose high-hopes bill for authorizing public spaces where people could socialize and consume cannabis stalled in the Assembly in June over what he called conservative Gov. Brian Sandoval's lack of political will.
Speaking to Leafly via cell phone from Las Vegas last week, Segerblom, sounding gruff, throaty and on the verge of a Hunter Thompson soliloquy, said, "I think we're on the wave of history and rather than pushing the wave back, we should be riding the crest of the wave forward."
AUTHORITARIAN DESERT CITY-STATE
Despite legalization of both medical and recreational cannabis, Las Vegas is still, in many ways, an authoritarian desert city-state pressing its boot on the heart of the American dream, a drug-legal reboot of the social savagery Thompson portrayed 46 years ago in "Fear and Loathing in Las Vegas."
Passing the buck up the food chain and ignoring existing anti-cannabis attitudes, the federally regulated gaming industry and the Nevada Gaming Control Board, the state's gaming enforcement arm, asked the powerful Nevada Gaming Commission for guidance on pot use by its customers, cannabis trade shows and the relationship it should have with money earned by cannabis industry.
The five-member commission, at its monthly meeting Thursday in Las Vegas, reaffirmed that cannabis has no place in Las Vegas casinos as long as cannabis is illegal under federal law, upholding prohibitionist no-smoking bans and a gambler-tracking program designed to snare money-launderers but which recently got the CEO of a Denver-based cannabis social media company ejected and banned from the Wynn casino in June.
"I understand the casinos' concern and I support that," Segerblom said. "But the reality is, once President Trump and Attorney General Jeff Sessions are gone, this stuff is gonna be ready to move into the casinos. Cannabis so fits into what they do. They lease their restaurant spaces to other parties. They could lease restaurant spaces to separate entities that are not gaming companies and let them have marijuana lounges. If there's money to be made, the hotels and casinos should make it."
The director of the local Department of Business License recently warned dispensaries they could lose their licenses if they promote cannabis events like tourist-friendly yoga, swimming and food events serving cannabis.
The Clark County Commission, which oversees McCarran International Airport in Las Vegas, held a public hearing in early August for a proposed ordinance that would make possessing and advertising cannabis illegal in "the airport environment" that heeds federal law.
"It seems like overkill," Segerblom said. "I guess that's why we have regulators. They feel it's something they need to worry about."
Noting that cannabis interdiction is not a priority for Transportation Safety Administration airport security agents, Segerblom said tourists should be able to take home souvenirs from their Las Vegas pot trips.
"If I came from Kansas and bought a vape pen, I would not expect you to think I'm going to leave it in Nevada when I go back to Kansas," Segerblom said. "In Nevada, when you purchased it was legal. What you do with it after that, as long as you comply with Nevada law, we could care less."
POT LOUNGES NEEDED
For all its permissive excess, Las Vegas lacks the one amenity that would ensure the transition of America's Valhalla of vice into America's Amsterdam of the desert: pot lounges.
Since Segerblom's bill to authorize public use of cannabis failed, there is no place in Las Vegas, or anywhere in Nevada, where adults can legally consume pot in public while socializing and sharing bonhomie afforded boozed-up gamblers cheering casino winners.
"The voters have spoken," Segerblom said, referring to November 2016 recreational cannabis ballot initiative approved by 55 percent of Nevada voters. "Tourists want to use it. Let's create controlled environments — marijuana streets, marijuana hotels, marijuana bars, marijuana concerts, marijuana massages. If someone wants to pay for it and they're 21 years old, then go for it. That's what we do in Las Vegas. If it's legal, we find a way to make money on it. That's why we're Las Vegas. The thought that this is horrifying, that's the part that bothers me."
While Nevada's bi-annual state Legislature can't revisit social lounges and public use until lawmakers reconvene in early 2019, Segerblom said a group of local and industry interests is promoting an emergency pilot program in Las Vegas' Clark County that would allow lounges and public consumption. Segerblom said the group awaits a legal ruling on whether the county has the authority to implement such a program.
"Once they have the legal authority then it's just going to be a question of whether the powers that be think it's a good thing," Segerblom said. "I think right now the stars are aligned. The cops like it. The Strip likes it. The industry likes it. We just have to get four county commissioners to like it."
INCIPIENT INDUSTRY
Pot has been legal in Nevada for less time than it takes to grow the plant. Sin City's cannabis tourism infrastructure is still but an incipient gleam in entrepreneurs' eyes. Cannabis-friendly lodging is limited to a smattering of high-end condos and a handful of modest apartments marketed Airbnb-style.
Tour buses will cut you through the lines at dispensaries but you can't toke on board, and the state's stringent microbial testing standards shut the door on grow-room tours.
Want something to do while you're enjoying Nevada-grown cannabis and Nevada-made concentrates and edibles? Bring-your-own-pot yoga, art and cooking classes are among the few pot-friendly activities that allow and encourage consumption.  
There's not yet a lot of there there. But bet on that changing.
One day soon, hotels may court cannabis tourists with entire floors and towers of pot-friendly rooms and private lounges featuring minibars stocked with pot, edibles and concentrates, with dab rigs at the ready like triple-thick robes. Cannabis amusement parks may set The Strip abuzz with weed-themed activities and entertainment. Famous-name foodies may launch cannabis restaurants and room service. You might even hail smoke-sesh-on-wheels cannabis bus and limo tours with ride-sharing apps.
"I'm waiting for the first hotel to launch cannabis floors and cannabis towers," said Pamela Johnston, a member of Las Vegas-based cannabis investment firm Electrum Partners and a former marketing director for the tourism services websites Vegas.com and LasVegas.com. "There are companies exploring this. I just can't say which. The casino mindset is that you service the drinker and the spender. The cannabis consumer is also a spender."
What hurts consumers, Johnston said, hurts Las Vegas.
"If you're setting up consumers to violate the law then you're setting up Las Vegas regulations to fail," Johnston said, noting the lack of legal places to smoke pot. "Las Vegas imagined and created the regulations for a safe gaming framework, which is used as a model around the world. Vegas has that opportunity in tourism and cannabis to create the model that is replicated around the world."
But, Johnston said, don't look for big players to get in the game just yet.
"Nipton is just a telltale of much, much bigger things to come," Johnston said, referring to the California ghost town an hour south of Las Vegas that was recently purchased by an Arizona cannabis company that wants to transform the 80-acre town into cannabis production and tourism hub. "They people behind it are not tourism experts. Now imagine if this was being done by MGM or by Carnival Cruise Lines or by Marriott."
Perhaps only then will tourism marketing agencies in legal cannabis states change their hands-off stance and promote pot tourism.
"The people who run Colorado tourism, Oregon tourism and Las Vegas tourism, none of them are spending tax-dollar money on cannabis because they're still attached to prohibition and they're afraid of stigmas and power dynamics of the prohibitionists," Johnston said. "So it takes a new player like the guys who bought Nipton to shake it up and send a signal to existing tourism entities that have a very siloed way of working."