If You're Going to San Francisco, Be Sure to Vape Friendly Farms
Enjoy Friendly Farms' True Full-Spectrum extracts in San Francisco cannabis lounges — and save 20% on Friendly Farms' vape cartridges and sauces every Saturday near Union Square. By Ed Murrieta
Vapor Room

Recently re-opened in a new location after the feds shut down the dispensary/lounge in 2012, Vapor Room carries Friendly Farms'  vape cartridges and sauces immediately south of Market Street, a short walk from major entertainment, civic and cultural venues. Vapor Room offers a brighter, airier but more intimate lounge environment in its new location than it did in the Lower Haight-Ashbury neighborhood. Vapor Room's new lounge area is fronted by a large storefront window  facing 9th Street, shining a light on the goings on within: adults responsibly consuming cannabis in a comfortable social setting. From inside, vapers and smokers can watch the city pass by. Vapor Room specializes in sun-grown cannabis and operates bodega style. Wander the store. Grab what you're going to buy — say, a Friendly Farms' vape cartridge or sauce — and pay at the counter.  Vapor Room is vape-only from opening until 4:20 p.m., upon which time smoking is allowed until closing.
The Vapor Room
79 9th St.
415-621-2100
vaporroom.com
---
Barbary Coast
Barbary Coast's exposed brick walls, stained-glass chandeliers, flocked-velvet wallpaper and lipstick-red leather banquettes evoke classic San Francisco restaurants and bordellos where young Mark Twain or a modern-day tech titan might drop by to get high, not far from premium hotels and shopping. That gentle sucking sound beneath your seat? That's part of Barbary Coast's smoke-scrubbing ventilation systems that keep the room and your clothes from stinking. Barbary Coast carries Friendly Farms' vape cartridges and sauces, the latter of which you can dab using Barbary Coast's quartz-glass rigs and electronic nails.
Barbary Coast
952 Mission St.
415-243-4400
barbarycoastsf.org
---
Urban Pharm

Enjoy all forms of consumption — smoking, vaping, dabbing — in an intimate space accented with furnishings you'd swear were reclaimed from a Burning Man theme camp. Urban Pharm vibes steampunk: moody lighting, caged entry, reclaimed wood and cut metal accents throughout. Urban Pharm carries Friendly Farms' vapes and sauces.  Forgot your dab rig? Borrow one from Urban Pharms.
Urban Pharm
122 10th St.
415-872-9488
urbanpharmsf.com
---
SPARC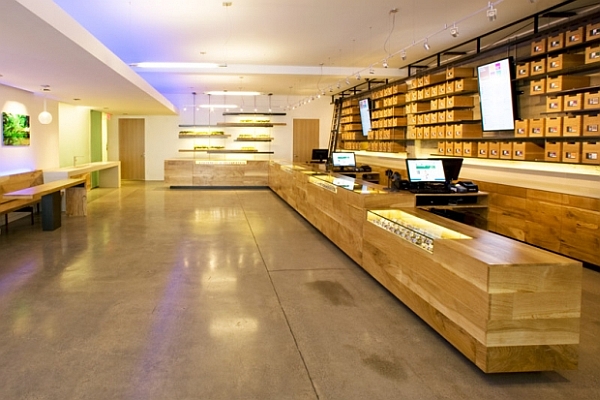 Bring your own dab rig to consume Friendly Farms' sauces purchased from SPARC or stick to Friendly Farms' vape pens purchased from SPARC, half retail boutique, half sleek wooden-bench-and-table lounge.

SPARC
1256 Mission St.
415-252-7727
sparcsf.org
---
Moe Greens 
Moe Greens is the newest, largest and most ambitious cannabis lounge in a city that's pioneered public cannabis consumption in America. Located on Market Street near major culture and entertainment venues, Twitter, Uber, City Hall and BART, Moe Greens is like three cannabis lounges in one: one lounge for vaping, one lounge for dabbing and one lounge for smoking. Designed in gleaming blonde woods, emerald leatherette, starburst chandeliers and golden accents against raw brick, Moe Greens vibes the best of old-school and modern-day San Francisco. Although no food is served (you can BYO within reason), Moe Greens is the most restaurant-like cannabis lounge. Coming soon: Reserve tables., order at tables, pay at tables. State-of-the-art tools and dab rigs are available for customer use.  Moe Greens doesn't  yet stock Friendly Farms; until then, I recommend Moe Greens' house-brand Gelato flower at $8 per gram.
Moe Greens
1276 Market St.
415-762-4255
moegreens.com
---
 No Lounge But 20% Savings
Pure 710SF  is not a lounge. If you visit the store near Union Square on Saturdays , you can save 20 percent on Friendly Farms' award-winning True Full-Spectrum live-resin cannabis extracts.
Pure 710SF
49 Kearny St.
415-654-5275
Pure 710SF
---
Magnolia Wellness
Across the bay in Oakland, Friendly Farms' sauces are served at $4 per dab  in Magnolia's dab bar and lounge, along with other premium cannabis concentrates. Recent Friendly Farms' strains include SFOG and Clementine.
Magnolia Wellness
161 Adeline St., Oakland
510-628-2119
MagnoliaOakland.org