Open mainstream cookbook. Pick a recipe. Add cannabis. 

BY ED MURRIETA
It happens most holiday gift-giving seasons: You give your mother your wish list. Instead of the Schwinn you want, she gives you a Huffy.
What do you do if you want a cannabis cookbook and someone gives you a regular cookbook?
Turn lemons into lemonade and turn almost any sober cookbook into a canna-cookbook.
Here are five new and popular mainstream cookbooks: "Cherry Bombe: The Cookbook, " "Smitten Kitchen Every Day, "Modernist Bread," "Dinner in an Instant" and "BraveTart."
Despite many of their stoner-friendly recipes — Pink Spaghetti and brownies, for Shiva's sake — none of the hot-selling titles have anything to do with pot.
Until now.

I've picked one recipe from each cookbook. I've studied the ingredients and found the places to incorporate cannabis into recipes in these ways:
via fats like  infused oil and butter;
via infused liquids like cannabis coffee and tinctures;
via infused chocolate';
via cannabis flowers,  cannabis leaf and kief;
and even using stems and seeds if you can find them.
You can apply this approach to most recipes and most cookbooks.  One of my favorite cookbooks, "Baking with Julia," easily becomes "Getting Baked with Julia."
Cannabis connoisseurs will be familiar with  the metric measurements in many of the recipes below and should already have a gram scale handy. As every baker and budtender will tell you: Weight is the most accurate measure whether it's all-purpose flour or top-shelf weed.
And don't forget to decarboxylate cannabis bud, kief, stems or seeds before incorporating into recipes. You know how you've got to bloom gelatin and activate yeast before you can add them recipes? If you don't decarb your weed, it won't work the way you want it to.
| | | |
| --- | --- | --- |
| MAINSTREAM COOKBOOK | RECIPE | ADDED CANNABIS |
---
Cannabis-Infused Pink Spaghetti with Beet & Ricotta Sauce
The first cookbook from the team behind the woman-centric food website, "Cherry Bombe: The Cookbook" is an antidote to bro-cuisine culture. This infusion is straightforward and sassy, too.
Saute beets in cannabis-infused olive oil.
Emulsify sauce with cannabis-infused olive oil.
Drizzle cannabis-infused olive oil over finished pasta.
Fresh cannabis leaves complement basil, adding herbal phytonutrients but no stoney psychoactivity.
Cannabis-Infused Pink Spaghetti with Beet & Ricotta Sauce
Adapted from "Cherry Bombe: The Cookbook." 
Serves 4 to 6
Kosher salt
2 red beets, the size of tennis balls
2 tablespoons cannabis-infused olive oil
½ cup boiling water
¼ cup cannabis-infused olive oil
2 cups part-skim ricotta
1 pound dried spaghetti
¼ cup freshly grated Parmigiano Reggiano cheese
½ cup chopped fresh basil
½ cup chopped fresh cannabis leaf (optional)
¼ cup chopped toasted walnuts
Zest of 2 lemons
Cannabis-infused olive oil for drizzling
Fill a large pot with water and several large pinches of salt and bring to a boil.
Peel the beets, then shred them in a food processor, using a shredding blade, or on the large holes of a box grater. You'll have about 4 cups shredded beets.
Heat 2 tablespoons of the cannabis-infused olive oil in a medium saute pan over medium heat. Add the grated beets and a pinch of salt and saute, stirring frequently, for 3 to 4 minutes. Once the beets have softened, add ½ cup boiling water and cook for 3 minutes more.
Transfer the beets to a food processor, add ¼ cup cannabis-infused olive oil and puree into a smooth paste. Add the ricotta and 1½ teaspoons salt. Puree again until very smooth. Set aside.
Cook the spaghetti in the pot of boiling water according to the package instructions. Reserve 1 cup of the pasta cooking water and drain the spaghetti.
In a large bowl, quickly combine the hot pasta with three-fourths of the beet-ricotta sauce and mix together well. If the sauce is too thick, add the reserved pasta water 1 tablespoon at a time. Add more sauce and/or water if necessary. Any extra sauce will keep in the refrigerator for a few days. (Use extra sauce as a dip for vegetables or as a sandwich spread.)
Twirl a serving of pasta onto a plate or into a bowl and sprinkle with some Parmigiano Reggiano, basil, cannabis leafs (if using), walnuts and lemon zest. Repeat with the remaining pasta. Drizzle with cannabis-infused olive oil. Serve immediately.
---
Cannabis-Infused Chocolate Olive Oil Cake
Home cooks and bakers will appreciate the simplicity of the recipes in blogger Deb Perleman's second cookbook. I like this recipe because it presents many opportunities to introduce cannabis. Double the recipe and bake in a lasagna pan.
Use your favorite cannabis-infused olive oil.
your favorite cannabis-infused chocolate.
Use hot-brewed or cold-brewed cannabis-infused coffee.
Stir in extra dimension and sweeten your coffee with cream and sugar.
Increase your cake's potency and je-ne-sai-quoi sweetness by melting cannabis-infused caramel into your coffee.
Increase your cake's potency with kief. Sift kief with cocoa powder.
Cannabis-Infused Chocolate Olive Oil Cake
Adapted from "Smitten Kitchen Every Day: Triumphant & Unfussy New Favorites." 
Makes 8-12 servings.
For the cake:
1 1/2 cups (195 grams) all-purpose flour
3/4 cup (60 grams) unsweetened cocoa, any variety, sifted
1 tablespoon kief (optional)*
1 1/2 teaspoons baking soda
1/2 teaspoon fine sea salt
3/4 cup (150 grams) granulated sugar
3/4 cup (145 grams) dark brown sugar
1/2 cup (120 ml) cannabis-infused olive oil
1 1/2 cups (355 ml) cannabis-infused coffee*
1 tablespoon (15 ml) cider vinegar or white vinegar
Heat oven to 350 degrees F. Line the bottom of 9-inch round cake pan with a fitted round of parchment paper and coat the bottoms and sides with nonstick cooking spray.
Whisk together flour, cocoa, baking soda, salt and granulated sugar in the bottom of a large mixing bowl. Add brown sugar and olive oil, and whisk to combine. Add water and vinegar and whisk until smooth.
Pour into prepared pan. Bake for 30 to 35 minutes, or until the top is springy and a tester inserted in the center comes out with just a few sticky crumbs (but not wet or loose batter). Cool the cake in the pan on a wire rack for 10 minutes, then cut around it with a knife to ensure it is loosened and flip it out onto a cooling rack to cool the rest of the way.
For the glaze:
4 ½ ounces (130 grams) cannabis-infused dark chocolate
2 tablespoons (10 grams) cocoa powder
3 tablespoons (45 ml) cannabis-infused olive oil
1 tablespoon (20 grams) light corn syrup (for shine)
A pinch or two of flaky sea salt
Combine chocolate, cocoa powder, olive oil, corn syrup, and salt in a medium bowl and microwave to melt, in 15 to 30 second increments, stirring between each until just melted. Whisk until smooth. Pour over completely cooled cake and use spatula to gently nudge it down the sides.
Cake keeps at room temperature for 2 to 3 days and up to a week in the fridge.
---
Cannabis-Infused Challah
Nathan Myhrvold's "Modernist Bread" — 5 volumes, 2,642 pages, $625 price tag — is what you get when a former Microsoft billionaire geeks out on bread after geeking out on a range of food in "Modernist Cuisine." Challah is one of the most satisfying breads to make and eat. The addition of cannabis makes this challah a dank daily bread.
Use the lightest-colored cannabis-infused olive oil you can find.
Kief — sifted with flour or dissolved and stirred into oil — can add potency.
Serve bread with cannabis-infused olive oil for dipping.
Even though the recipe is Parve, you can slather on butter (canna-butter or regular butter).
Cannabis-Infused Challah
Adapted from "Modernist Bread'
185 g water (¾ cup)
6 g instant dry yeast (2 tsp)
575 g flour (4 cups)
80 g whole eggs, cold (2 ea.)
40 g egg yolks, cold (2 ea.)
45 g sugar (¼ cup)
43 g vegetable oil (¼ cup)
11 g fine salt (2 tsp)
Vegetable oil, as needed
50 g whole egg
20 g egg yolk (1 ea.)
Nigella seeds, optional
Instructions
Prepare the dough: Combine the water and yeast in the mixer's bowl and stir to dissolve. Add the flour, eggs, egg yolks, sugar, oil, and salt. Mix on low speed until you obtain a homogenous mass, 1–2 min. Mix on medium speed to full gluten development, 5–7 min.
Prepare to ferment: Transfer the dough to a sheet pan lined with a lightly oiled nonstick silicone mat. Flatten the dough, and form it into a rectangle with even thickness. Cover with a lid or plastic wrap.
Ferment: Bulk ferment for 1 h. Refrigerate the dough, covered, until it is firm and chilled, 1–2 hours. Divide the dough into 165 g pieces (6 total). Preshape as a simple bâtard with tapered ends. Rest the dough in the refrigerator, well covered, for 20 min.
Braid the dough: Roll the dough out to 45 cm / 18 in long strands. Cover the strands immediately after rolling to keep the surface from drying out. Place three dough strands side by side, leaving about 2.5 cm / 1 in between the pieces. Pinch the three pieces together at the top so that they stick to one another. Move the right strand over the middle strand. Place the left strand over the middle strand (that was previously the right strand). Repeat steps 14 and 15 until the braid is finished. You are essentially just moving the outside strands to the middle in an alternating pattern, but using two hands helps pull the braid together. Pinch the three ends of the dough together, and gently roll them so that they taper into a pointed tip. Tuck the tip under the braid.
Prepare to bake: Line a sheet pan with a nonstick silicone mat or parchment paper. Place the loaves in the prepared pan. Brush each loaf with a thin coat of vegetable oil. To prevent the crust from ripping, brush the surface with oil 2–3 times during proofing. Proof the dough for 1–2 h at 21˚C / 70˚F. Test for proof using the fingertip test. (Gently press the exposed surface of the dough for 2 s; the pressure should leave a small dent in the dough; it will slowly spring back, but the indentation should remain clearly visible after 1–2 s.)
Create an egg wash: While the dough is proofing, whisk together the egg and egg yolk to make an egg wash. Brush egg wash on the loaves just before baking. Coat in seeds or other toppings, if desired.
Bake: Bake the dough for 15 min at 190˚C / 375˚F. Once the crust has an amber-brown color, take the loaf out of the oven and apply a second coat of egg wash, if not garnished with seeds. Return the loaf to the oven, open the vent, and bake for 10 more min.
Rest the bread: Remove the bread from the oven. Cool the bread by placing the sheet pan over a cooling rack so air circulates below the pan. Consume within 1 day or freeze for up to 2 mo.
---
Cannabis-Infused Bone Broth
New York Times columnist Melissa Clark's new cookbook treads where hipsters and harried housewives dare to cook. If you get an Instant Pot cooker for Christmas, this is the cookbook for you. Got a pressure cooker or multicooker? It's the cookbook for you, too.   Enjoy steaming cups of nutrient-rich cannabis-infused bone broth.  Use cannabis-infused bone broth as the base for soups and sauces. Freeze in ice cube trays and drop into recipes for extra flavor and potency.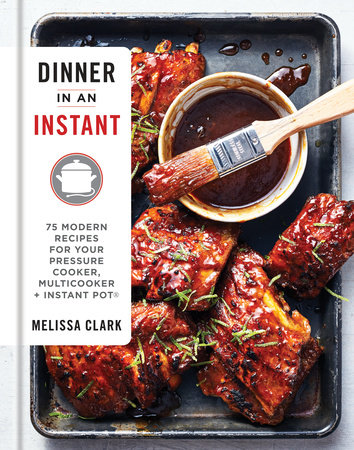 Cannabis-Infused Bone Broth
Adapted from "Dinner in an instant." Makes 3 quarts. 
3

 

pounds beef bones, pork bones or mixed bones, preferably both meaty bones and marrow-filled bones

3

 

tablespoons apple cider vinegar

1 ½

 

tablespoons coarse sea salt, or to taste

1 to 2

 

celery stalks

1

 

large carrot

1

 

large onion, 2 leeks, or a bunch of leek greens

1

 

whole clove or star anise pod

2 to 6

 

garlic cloves

5 to 7

 

sprigs fresh thyme or dill

5 to 7

 

sprigs fresh parsley

1

 

bay leaf

1

 

teaspoon black peppercorns

2 to 4

 

1-inch-thick coins peeled fresh ginger (optional)
If you want to roast the bones first, heat the oven to 450ºF. Lay the bones out on a rimmed baking sheet and roast until well browned, 25 to 35 minutes.
Put the bones (roasted or not) in the pressure cooker pot and add all the remaining ingredients. Cover with 3 to 3 1/2 quarts of water (the water shouldn't come more than two-thirds of the way up the side of the pot).
Cook on high pressure for 4 1/2 hours for beef, pork, or mixed bones.
When making bone broth, you'll know you've cooked it long enough if all the connective tissue, tendons, and cartilage have dissolved and the bones crumble a bit when you poke at them. If this hasn't happened, cook it on high pressure for another 30 minutes and check it again.
Allow the pressure to release naturally. Strain broth. Use the broth right away, or store it in the refrigerator or freezer. Bone broth  will keep for 5 days refrigerated or up to 6 months frozen.

Return to top
---
Cannabis-Infused Brownies
Brownies? Wait. Come back. Stella Parks' brownies are interesting for the pastry wizard's butter technique. Parks removes water from her butter before mixing. — a faux-clarification process similar to making canna-butter that allows bakers to pour a half-cup of coffee into the recipe, adding extra moisture and flavor without adding extra liquid.  Cannabis coffee, of course, adds potency.
Mix cann-butter and regular butter. The recipe calls for a lot of butter.
Use a cannabis-infused chocolate bar or two; use your favorite dark chocolate (Guitard couverture or the pound-plus Belgian bar at Trader Joe's) for the remainder of what the recipe calls for.
Use cannabis-infused coffee (hot-brewed or cold-brewed) for extra potency.
Kick it up with kief. Sift a tablespoon with the cocoa powder or flour.
Cannabis-Infused Brownies
Adapted from BraveTart. 
6 ounces butter, "clarified" (resulting in 4.5 ounces pseudo clarified butter)
4.5 ounces canna-butter
8 ounces unsweetened chocolate, chopped
4 ounces cannabis-infused chocolate
1/2 vanilla bean, scraped, or 1 tsp vanilla
1/4 tsp kosher salt
4 ounces cannabis-infused coffee
6 eggs
21 ounces sugar
6.75 ounces all purpose flour (use 7 oz almond flour for GF or if you'd just love to have a slightly nutty brownie!)
4.5 ounces cocoa powder
Preheat that oven kids. 350° as usual.
Line a 9"x13" metal baking pan with a sheet of aluminum foil; one long strip down the middle and hanging over the ends will get the job done. This will make removing the brownies super easy, and cleaning up a little less onerous.
What to do: melt 12 ounces of butter in a medium saucepan over low heat until liquefied. Crank up the heat to medium low. The mixture will boil, possibly spit, and make a lot of noise. Keep an eye on it, and keep boiling, until it gets quiet. You don't need to stir or skim, just watch and listen. After a while, it will really go ninja silent. That means you've cooked all the water out, yay!
Now remove from/shut off the heat and add in the chocolate; whisking until smooth. Next, whisk in vanilla seeds/extract, salt, and port. Set aside.
In a stand mixer, whisk the eggs and sugar together on medium speed for about 5 minutes. Meanwhile, sift together the flour and cocoa. Turn the speed down to low and pour in the chocolate mixture all at once. Immediately add in the dry ingredients and keep mixing until just incorporated.
Pour into the prepared pan and bake for 25-30 minutes. They will not seem totally done when you pull them out, but this particular brownie is so very dense that it will retain its heat and keep cooking for quite some time. Err on the side of gooey.
Cool the brownies thoroughly. If you're looking to get extremely neat squares or rounds, refrigerate the brownies for an hour before cutting.
---
Sourcing Cannabis-Infused Ingredients
Cannabis-infused butter: Make your own from this reliable recipe. How potent is your homemade  canna-butter? Use this reliable calculator.
Cannabis-infused oil: Purchase from recreational pot shop or medicinal cannabis dispensary. Or make your own from this reliable recipe. How potent is your homemade  canna-oil? Use this reliable calculator.
Cannabis-infused chocolate: Purchase from  from recreational pot shop or medicinal cannabis dispensary. If you wish to use your favorite kind of non-infused chocolate,  mix it with potent infused chocolate sold in Halloween candy sizes. I like California's Cocoa Meds brand,  half-ounce units packed with 70 mg of THC that sell for $4 each.
Cannabis-infused coffee. Purchase brew-at-home hot-brewed coffee pods or bottled cold-brewed coffee from medicinal dispensaries and retail pot shops.
Cannabis-infused tincture: Purchase or make your own. If a recipe calls for liquids like water or milk, use tincture in place of a small portion of liquid.
Bud, shake, kief, bubble hash. Purchase lab-tested product from a regulated dispensary or store.
Stems and seeds. Grow your own.  Stores don't sell stems and seeds.  Sourced on the black market, stems and seeds will carry the same penalty as any other part of a non-regulated plant.