Roasted Grape Crostini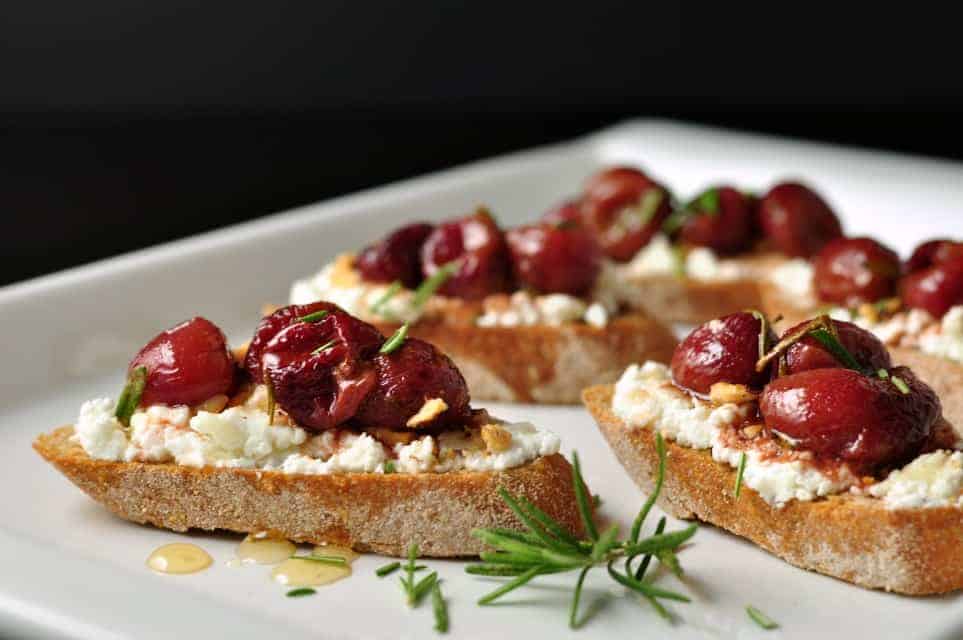 ED MURRIETA
This intensely grapey appetizer from San Francisco cannabis chef Corren Carroll is delicious with year-round red table grapes. It's even better with gorgeous fall grapes like Concords, Black Monukkas, Muscats and Autumn Royals, Crimsons and Fantasies. It's killer with cannabis.
Recipe: Roasted Grape Crostini with Cashew Cream
Adapted from "Edibles: Small Bites for the Modern Cannabis Kitchen" by Coreen Carroll and Stephanie Hua (Chronicle Books)
Cannabis products: Cannabis honey or agave, cannabis olive oil.*
Start to finish: 55 minutes
Yield: 18 portions
Approximate dosage: TK. See note.
Ingredients
1 pound seedless grapes

1 tablespoon extra-virgin olive oil

1/2 teaspoon kosher salt

¼ teaspoon freshly ground black pepper

4 sprigs thyme, halved widthwise

2 sprigs rosemary, halved widthwise
Instructions
Preheat oven to 400°F. Line a sheet pan with parchment paper.

On the prepared sheet pan, toss grapes, olive oil, salt, pepper, thyme, and rosemary.

Roast in oven for about 30 minutes until the grapes are blistered and jammy, stirring once halfway through.

Remove from oven and set aside.
For the cashew cream
2/3 cup mascarpone cheese

2 tablespoons cashew butter

2¾ teaspoons cannabis butter, at room temperature

½ teaspoon kosher salt
Instructions
In the bowl of a stand mixer fitted with the paddle attachment, or in a large bowl with a handheld mixer, combine the mascarpone, cashew butter, cannabis butter, and salt.

Whip for about 30 seconds on medium speed until well combined. Do not overbeat or your mixture can separate.
For the crostini
1 sourdough batard

Olive oil (infused or non-infused)

Kosher salt

Pepper
Instructions
Preheat the broiler to high.

Slice bread diagonally into 18 ½-inch-thick pieces each measuring about 2 x 4 inches.

Brush one side of bread slices with olive oil and season with salt and pepper.

Place the crostini on a baking sheet and under the broiler for 3 to 5 minutes until lightly golden.
To assemble
Spread 2 tsp cashew cream onto each crostini and top with a spoonful of roasted grapes. Drizzle any

jus

from the grapes and enjoy immediately.
Potency note: The potency of these finished recipes will depend on the potency of your cannabis-infused ingredients — honey, agave, wine, butter or chocolate, whichever you use and in whatever combined total you use. Read labels and determine the number of milligrams in each ingredient. Divide by the number of servings per recipe. That's how many milligrams of THC will be in each serving.
The amount of cannabis product specified in this recipe is a very loose suggestion; the actual amount you use should be modified based on the strength of your products and the potency you desire. Dosing homemade edibles can be tricky (click here to learn why), so the best way to test for potency is to start with one portion of a serving, wait one to two hours, then make an informed decision on whether to consume more. Always dose carefully and listen to your body, and never drive under the influence of cannabis.