West Coast Boasts a Dozen Pot Ports of Call
High-end boutiques, pot-paired dinners, wine-and-weed and bud-and-beer pairings, CBD massages, CBD hotel mini-bars, decadent lounges and smoking excursions await cruise-ship travelers from Alaska to the Mexican border.
BY ED MURRIETA
Cruise-ship travelers are disembarking to legal cannabis on the West Coast of the United States and soon in Canada.
Major cruise lines docking in Juneau, Seattle, San Francisco, Los Angeles, Long Beach and San Diego today are just gangways away from legal ganja.
On Oct. 17, when legalization begin in Canada, Vancouver, BC, will become the West Coast's 10th significant pot port and one of the rare places in all legal lands where tourists can smoke in cafes.
When Massachusetts' recreational cannabis stores go online sometime this summer, there'll be an international East Coast pot port enclave extending from Boston to Quebec City, Canada.
Today, you can pull into ports on many major cruise lines working the Pacific Ocean and immerse yourself in the best cannabis stores, the best cannabis lounges, the best cannabis dinners and the best cannabis activities in legal cannabis states.
Depending on how long you're in port — some cruises pull in for several hours, some for a day or two — you can book tours or DIY your own excursions.
But just don't carry or use cannabis on board cruise ships. Here's the bottom line from one major cruise line servicing North America's Pacific Ocean coast:
"No illegal drugs or other illegal substances are allowed onboard or may be utilized during a Royal Caribbean International cruise vacation, including during transfers to and from ships, inside terminals, while onboard, at our ports of call, during shore excursions or at our private destinations. Illegal drugs or substances will be confiscated and appropriate action taken, which may include removal from the ship …"
Royal Caribbean says its interpretation of illegal is based on international law, not Alaska's, not Washington's, not California's and not Canada's. Expect similar rules from Princess, Norwegian, Holland America and other major cruise lines sailing the Pacific Ocean from Juneau to San Diego.
Of course, what paying adult passengers do in port is totally up to paying adult passengers on excursion. Go ashore. Local cannabis and cannabis culture are expecting you.
Cruise season ends in winter and begins again in spring 2019.
Here's a cruise-ship travelers' guide to buying, consuming and experiencing cannabis in West Coast port cities.
---
---
---


SAN FRANCISCO
Port deets: A dozen major cruise lines enter the Golden Gate and dock at Pier 27's James R. Herman Cruise Ship Terminal — in the heart of San Francisco's smartly developed, touristy waterfront, short car, foot and public transportation trips from world-class restaurants, museums and cannabis. California's most sophisticated city is chock-full of chic cannabis stores, decadent smoking and vaping lounges, CBD massages, ganja yoga classes, pot-paired dinners and immersive tours that explore San Francisco's ingrained connection to cannabis, from Beats to hippies to foodies to techies.
Cannabis excursion time: Some ships berth for a day, some overnight. San Francisco responds with range of cannabis activities to fit all time schedules and excursion interests.
Must-hit store and lounge: If your time in port is limited, you'll want to visit Barbary Coast Collective, San Francisco's all-in-one cannabis store and cannabis lounge that harkens to the city's most decadent days. Barbary Coast sells fine flowers and choice concentrates. Enjoy them in a state-of-the-art lounge vibing classic steakhouse and vintage bordello, appointed with quartz glass dab rigs, leather banquettes and smoke-scrubbing exhaust systems. Located South of Market near Union Square, convenient to museums, entertainment and shopping.
Must-shop retail experience: Hit The Apothecarium, San Francisco's elegant and welcoming mothership of high-end cannabis retailing that operates three luxe boutiques locally and one in Las Vegas. Here in the heart of the Castro District, where California's historic medicinal cannabis movement and today's spreading legalization juggernaut were born, you'll find an excellent selection of the best brands, plus smart and friendly service from budtenders who ably answer questions. Three locations, near popular attractions and neighborhoods like AT&T Park, the Castro District and the Marina District.
Must-drink CBD cocktails: At Flore, the 45-year-old iconic cafe which endures as a humble clubhouse for gay cannabis activists. People-watch from patio and sidewalk tables while munching stoner bar snacks like chicken-fried bacon and drinking cannabis in the form of cocktails crafted by the cream of San Francisco mixologists. Cocktails contain 5 mg of non-psychoactive hemp-derived cannabidiol, or CBD, and the benign, distilled essence of select cannabis strains. Toast late cannabis icons Dennis Peron and Brownie Mary, who met here in the Seventies and influenced the politics and possibilities of people and pot for their own and future generations.
Must-feel CBD massages: Why wander the Haight-Ashbury, where the age of Aquarius approaches the age of retirement and pot-branded Cookies hoodies cost $100? Do your body better at five-star St. Regis Hotel, where Remede Spa offers Love and Haight hot-oil cannabis massages that will soothe you, not stone you. Instead of working your body with traditional essential oils, masseuses use non-psychoactive hemp oil containing popular anti-inflammatory compound CBD and no trace of THC, pot's euphoric compound. CBD may be therapeutic but it's not cheap relief. Sixty-minute massages cost $275 each but come with access to separate men's and women's whirlpools, saunas and steam rooms, plus Champagne and chocolate truffles. Physically closer to the Haight-Ashbury and slightly cheaper, Kabuki Springs & Spa's CBD massages start at $137.50.
Must-eat cannabis dinners: There are two approaches to cannabis cuisine. One puts cannabis in food, using mains, sides and condiments as delivery systems for highly processed forms of cannabis, which, while enhancing foods' aromas and flavors, are not instantly enjoyable as the onset of edible cannabis' effects can be delayed for two hours. The other approach pairs different strains of smokable and vapable cannabis with different meal courses, a different experience of flavors and instant effects. That's how Coreen Carroll prepares and serves her four-course Cannaisseur Series dinners ($150 per person), which emphasize the symbiotic bonhomie pot brings to the dinner table — heightened smell and taste sensations, intensified focus on nuances and a dash of je na sa quios that enhances the whole.
Must-take wine-and-weed tour: There are so many things to do in San Francisco you may not need a tour. If you must take a tour, take a tour that pairs two Bay Area obsessions — cannabis and wine. Start across the Bay with musician Melissa Etheridge's cannabis-infused wine at the Oakland Cannabis Creative, then limo back to San Francisco (you can smoke in the vehicle) and go inside cannabis cultivation facility The Betty Project
---


SANTA CRUZ
2018 Cruise Ship Schedule
Port deets: Moor off shore, shuttle to land.
Cannabis excursion time: Most likely you've filled your brief Santa Cruz schedule with whale-watching and beach-and-boardwalk fun. Spend about an hour shopping for local products like Big Pete's Treats, old-school cannabis cookies that deliver the essence of this seaside hippie harbor.
Must-hit stores: Kind People's and CannaCruz are within walking distance of each other, both short ride-share rides from cruise ship landing location.
---

LOS ANGELES & LONG BEACH
Port deets: Pending the opening of recreational cannabis stores in nearby downtown Long Beach, both ports' industrial locations 30 miles southwest of downtown Los Angeles necessitate hour-long car rides to reach the nearest retail cannabis shops. So until Long Beach stores open, experience real life in Southern California and take the roads most traveled to greater Los Angeles cannabis stores that run the spectrum from celebrity-filled to LaLa Land chic to dingy beach-bum authentic.
Cannabis excursion time: Most cruise ships home-port in Long Beach and Los Angeles so plan your local cannabis excursions on either end of your cruise's departure or return.
Must-hit stores: With glitzy, world-class shops in West Hollywood, Beverly Hills and Venice Beach, MedMen leads the prevailing trend of high-end cannabis retailing. California Congressman Ted Lieu, a pro-cannabis Democrat, cut the ribbon on MedMen's recent opening in Venice Beach, the private equity-backed cultivator-retailer's 13th international outlet, now featuring Gwyneth Paltrow's Goop-approved products and located in a section of the boho beach town GQ magazine calls "the coolest block in America." (For for grubbier, more old-school Venice Beach experience, Green Goddess is a half mile closer to the fabled beach.) In Studio City not from where the 101 meets the 405, Buds & Roses caringly curated flowers, edibles, topicals and extracts appeal to a discerning clientele — celebrities and non-celebrities alike.
Must-visit smoke stop: Hitman Coffee Shop, a private-membership BYO cafe/gallery where you can consume cannabis you purchased elsewhere, is within easy striking distance from Buds & Roses and all MedMen shops. Reminiscent of Amsterdam-style neighborhood hangouts, Hitman offers custom-roasted coffee and a cozy garden for smoking. Enjoy stand-up comedy, music performances, fashion and art exhibitions. Admire showroom-quality glass art and dab with celebrities, extract artists and luminaries from L.A.'s cannabis movement.
Must-take tokable tour: Let High Tide Tours do the driving, staring with an outing to a canyon for a morning smoke and meditation, then onto top-tier retail stores, a fireside chat with a grower and indica-paired yoga on Venice Beach.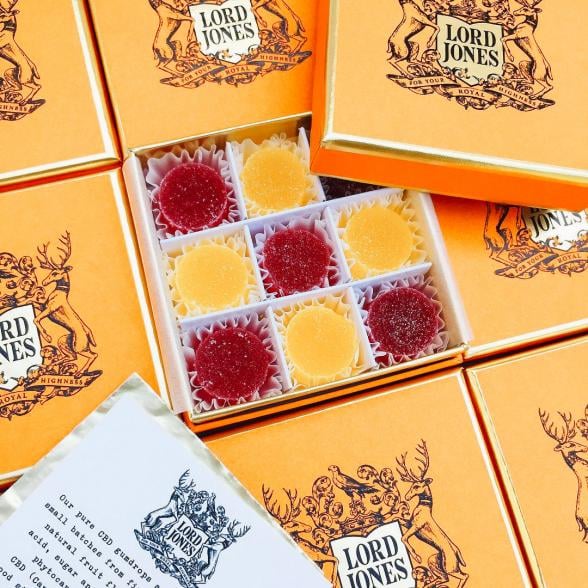 Must-hit hotels: The Standard, a boutique hotel in West Hollywood and downtown Los Angeles stock gourmet CBD gumdrops and luxe CBD body lotion in their minibars. The CBD-infused products are both from L.A.-based luxury cannabis brand Lord Jones. A Lord Jones retail shop inside a Standard hotel is in development.
Long Beach stores ahoy: Long Beach stores (about 10 miles away from Long Beach and Los Angeles ports) currently serve only medicinal cannabis consumers. The Long Beach City Council voted June 19 to allow recreational cannabis sales; it's not yet clear when retail sales will start.
---

SANTA BARBARA
Port deets: Cruise ships dock a mile and a half off Santa Barbara's coast. Passengers are ferried ashore, arriving at the Santa Barbara Harbor not far far from downtown Santa Barbara, a hospitable and walkable tourist destination. Ride the waterfront shuttle and wander the urban wine trail, featuring more than 20 tasting rooms.
Cannabis excursion time: You may not need more than a few hours. There's just not that cannabis activity in town.
Must-hit delivery: Santa Barbara's cannabis stores are located well beyond its quaint tourist district. Blue Coast Farms will deliver some of California's best edibles, topicals and CBD products to you in public locations.
---

SAN DIEGO
Port deets: The B Street Cruise Ship Terminal is close to many of San Diego's biggest attractions — craft breweries — but not so close to cannabis stores.  
Cannabis excursion time: Plan on a day in port pursuing pot.
Must-take-and-toke tours: West Coast Cannabis Tours will pick you you up and smoke you out on board its specially rigged and legally permitted tour bus. Tour activities include visits to grow rooms, retail stores, art classes, glass blowers and pairs with San Diego's most famous intoxicant, craft beer.
---

ASTORIA, ORE.
Port deets: The Port of Astoria Boat Yard serves cruise ships berthing in this historic logging town founded by, funded by and named for 19th century American business mogul John J. Astor.
Cannabis excursion time: Half a day'll do.
Must-hit stores: You'll visit Hashstoria for the name alone. There are four other stores along a quaint waterfront stroll.
---
BELLINGHAM
Port deets: Set sail year-round for intimate tours of Alaska's Inside Passage aboard a state of Alaska Marine Highway Ferry launching in Bellingham, Wash., a scruffy post-industrial college town two hours north of Seattle. Ships feature restaurants, bars and play rooms. Rent cabins or pitch tents topside. Cars, RVs and pets allowed.
Cannabis excursion time: Disembark at any destination — recommended: Skagway and Ketchikan — for any length of time and resume sailing at your own pace.
Must-hit stores: Bellingham has some of the most beckoning stores names in retail cannabis: The Joint, The Pot Shop, Satori …
---

SEATTLE
Port deets: Ten major cruise lines service Seattle, where the West Coast's largest cruise ship, the 1,082-foot Norwegian Bliss carrying 4,004 passengers and 1,716 crew, now homeports.
Cannabis excursion time: Plan on a day in port pursuing pot.
Must-hit stores: If you're going to DIY your Seattle cannabis excursion, Herban Legends and Have a Heart Belltown are easily accessible.
Must-take-and-toke tour: Meet Cannabus behind Seattle Art Museum — Port of Seattle is 3 miles from the tour pick-up site. Pier 66 Bell Street Pier Cruise Terminal is less than 1 mile away and quite walkable. Tour activities include a cultivation site, three retail stores (The Green Door Seattle, Herban Legends, Diego Pellicer) and on-board smoking.
Must-attend event: Eight cruise ships will dock in Seattle during the Aug. 17-19 run of Seattle's Hempfest, on the water between the city's two major cruise ship ports.
---

VANCOUVER, BRITISH COLUMBIA
Port deets: Canada Place Cruise Ship Terminal is located less than 1 mile away (easy walking) from Vancouver's top cannabis destinations.
Legalization deets: Retail sales begin Oct. 17. It's not yet clear where stores will be located. Just know you won't have to buy weed from a guy at a nearby hostel pub any more.
Cannabis excursion time: Plan for half a day and stay the whole day, or as long as you can so you can visit all Vancouver cannabis cafes.
Must-hit cannabis cafes: Vancouver's long pioneered cannabis cafes. For smoking, visit New Amsterdam Cafe. For vaping, visit Blunt Bros. and Cannabis Culture Lounge.
---

ALASKA
Port deets: Major cruise lines serving Anchorage berth in Anchorage Seward Cruise Ship Terminal 130 miles to the south.
Juneau Cruise Ship Terminal serves major lines. Skagway and Ketchikan serve the Alaska Marine Highway Ferry.
Cannabis excursion time: Plan for a day in Anchorage, thanks to the portage transportation cruise-ship travelers get from Seward. In Juneau, plan a day for getting around. In Skagway and Ketchikan you can take as long as you want thanks to the Alaska Marine Highway Ferry schedule.  
Must-hit stores: In Anchorage, visit Dankorage, Cannabaska and Alaska Fireweed. In Juneau, hail rides to nearby Rain Forest Farms and Green Elephant. In Ketchikan, stop at The Stoney Moose. In Skagway, try Rainforest Cannabis.
---
MEXICO
Mexico is due to legalize medicinal cannabis this year and the nation's tourism minister is already calling for full legalization as a way to curb drug cartel violence in resort (and cruise-ship port) cities.
---

EAST COAST
Boston and Quebec City, Canada, are popular ports serving East Coast cruise ships. Both Massachusetts and Canada await legal retail sales and store location announcements. Massachusetts  was scheduled to start July 1 but that's been pushed back to later this summer. Canada starts Oct. 17. Recreational cannabis is legal in Maine but retails stores aren't expected until spring.
---
2018 Cruise Ship Schedules
---
RELATED CANNABIS TRAVEL CONTENT

Read Ed Murrieta's cannabis travel content published in the San Francisco Chronicle, on GreenState.com and on Leafly.com.
Cultivate your ultimate Las Vegas cannabis weekend — San  Francisco Chronicle GreenState.com
Top 5 California cannabis tourist destinations — The San  Francisco Chronicle
Marijuana-friendly bud and breakfasts — The San  Francisco Chronicle
Palm Springs Is California's Smoking-Hot Cannabis Tourist Destination — Leafly
Nevada Marijuana Guide: How to have an awesome weed weekend in Reno & Lake Tahoe — San Francisco Chronicle Green State
Cannabis-friendly California AirBnBs that gift you weed — San Francisco Chronicle Green State
Going to Burning Man? Stock Up in Reno First — Leafly
California marijuana guide: Day-tripping Sacramento dispensaries — San Francisco Chronicle GreenState.com
---
PUBLIC SERVICE
---
Related Content on Pot Appetit
---