Craft beers infused with CBD and THC and natural aromas and flavors engineered to mimic cannabis terpenes buzz adult beverages makers.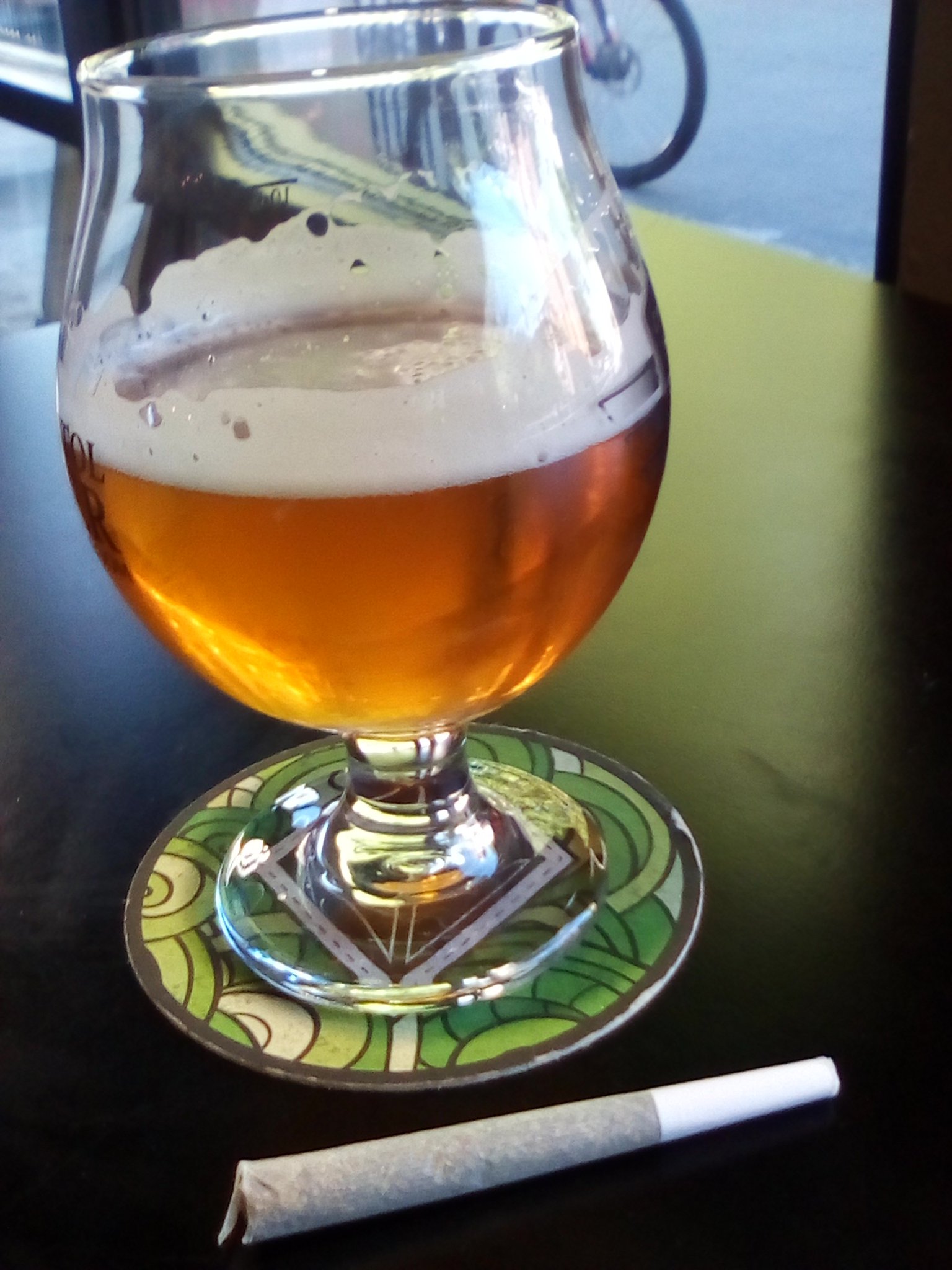 BY ED MURRIETA
The Hemperor, New Belgium Brewing Company's new IPA, is not the first beer brewed with hemp seeds.
Nor is it the first beer to celebrate the botanical, olfactory and gustatory similarities between hops and cannabis.
It is, however, the first hemp-infused India pale ale — an HIPA — to be distributed across the United States.
And The Hemperor, released in early April by the Colorado brewery best known for the Fat Tire brand, is certainly the first adult beverage in the legal cannabis era that's been engineered in a laboratory to mimic the aromas and flavors of cannabis while containing no trace of the plant's psychoactive cannabinoids.
Prohibited by the federal government from brewing with hemp flowers that would impart aromas and flavors mirrored in hops along with non-psychoactive cannabinoids like therapeutic CBD, New Belgium brews The Hemperor with hemp hearts, the meat of shelled hemp seeds, which imbue a mild, hazy nuttiness but no intoxicating effects of cannabis, hemp's botanical sister and hops' botanical cousin.
To mimic cannabis terpenes, New Belgium draws on other natural ingredients. In The Hemperor's herbaceous case, natural cannabis aroma and flavor means those attributes were engineered in a laboratory to parrot pot's polymorphic punches to noses and mouths using extracts from natural aromatics like citrus peel, grapefruit and pine sap.
The Hemperor is on tap in 49 states (Kansas bans hemp products) and will be released in six-pack bottles in late May.
I paid $4 for a 5-ounce pour of The Hemperor at Capitol Hop Shop in Sacramento on Friday, 4/20.  
The Hemperor announced itself as the bartender set the rosette glass in front of me — a waft of familiar cannabis that caught my nose and whipped my neck side to side to pick up the aroma's source.
Big Time Like Weed
In this case, the smell of pot was centered three feet from my face on the bar, coming from a medium-bodied golden ale with a soft, soapy head.
I picked up the glass and held it to my nose.
I consumed only the aroma before I drank the beer, the way you bury your nose in a baggie before breaking off a nug from a bud.
Citrus and pine blasted my senses sharp and crisp.
This beer smelled like weed big time.
The Hemperor tasted like a dry hit off a top-shelf joint — herbaceously sweet, profoundly pungent.
This beer tasted like weed big time.
The Hemperor registers 55 on the International Bittering Units scale — modest by IPA standards — and didn't suck my tongue dry like popular West Coast IPAs pushing 70 to 80 IBUs.  The beer's bitterness was clean and enthusiastic — ephemeral, not astringent.
Even at 7 percent alcohol by volume, I could drink two, or pair one with a joint without wrecking my palate for the subtleties of pho.
Pouring On
The Hemperor's release coincided with the announcement by the brewer who created micro-to-macro Blue Moon Belgian wit-style ale that he's launching a line of non-alcoholic craft beers containing THC, the primary intoxicant in pot, dosed at easy-to-understand alcohol-to-cannabis equivalency measures.
In February, a Canadian company filed a technology patent for a process of brewing beer from cannabis, and a craft brewer in Toronto partnered with a cannabis company to create a cannabis-inspired beer whose blend of hops and malts "would give it a subtle hint of some of the cannabis flavors."
All of this brewing activity follows October's news that the owner of Corona beer, Constellation Brands, is investing in a cannabis company with the intention of producing cannabis beverages and comes after last summer's  release by California's Lagunitas Brewing Company of a beer infused with non-psychoactive cannabis terpenes that complemented similar aromas and flavors of the hops in the beer.
Shattering Notes
At the time, Lagunitas — no stranger to pot, having experienced a police raid over allegations of pot smoking at the brewery, and its "Censored" beer label with cannabis undertones — said its SuperCritical Ale, infused with terpenes extracted from cannabis strains used by the concentrate-maker it partnered with, was a test but did not rule out its re-release.
I tested a growler of  Lagunitas' SuperCritical, a golden-straw ale. Its floral bouquet tickled my nose. Its dry hoppiness parched my tongue. Cannabis terpenes — flavors and aromas evoked if not the plant exactly certainly evoked the distilled essences of cannabis you experience in high-end concentrates. It finished with an uplifting intrigue, gaining depth and intensity as it warmed.
Meanwhile, against the backdrop of the Drug Enforcement Administration banning industrial hemp containing trace amounts of THC and a lawsuit against the federal government that was joined by a Colorado brewer that was set to release a hemp CBD  product before last year's DEA ban, brewers in Vermont, Oregon and California are producing and selling small batches of CBD beer in their taprooms and local bars.
On April 20 in England, American rap duo Run the Jewels was to release a CBD-infused version of the contract-brewed pilsner that bears its brand. An English brewery was reportedly following with Buffalo Soldier Hemp Ale.
One Bay Area company in my LinkedIn network is teasing a CBD-infused beer it wants to ship across the United States and internationally.
Seedy Background
If The Hemperor is not the first beer brewed with hemp seeds, which is?
I'll have to research that further, but I recall Humboldt Brewing Company's Brown Hemp Ale from a decade ago.
Hemp Hurray
The first beer to celebrate the botanical, olfactory and gustatory similarities between hops and cannabis?
Further research may correct me, but I'm going with Samuel Adams, Boston Beer Company's macro-micro, which in 1994 ran scratch-and-sniff advertisements in Rolling Stone, Sports Illustrated and Newsweek magazines. The hops cone pictured in the ads smelled distinctly weedy.