Sacramento's Build.Black Coalition will use funds to invest in cannabis equity businesses and build wealth in minority communities.
BY ED MURRIETA
Nearly a year after it pledged $100,000 to an organization representing black community groups in Sacramento in order to secure its permit for California's first legal cannabis festival, High Times has honored its promise, and even added $25,000 to compensate the Build.Black Coalition for the payment delay.
Now the question is: Will money politically extracted from the world's oldest cannabis brand be spent on cannabis equity initiatives and wealth-building programs in Sacramento's minority communities?
A member of Build.Black Coalition's board of directors told me, "Yes, for advocacy and for business development. Cannabis specific efforts will be lead by Urban Partnership and the Urban League."
Sacramento's mayor said in September that High Times would not be welcomed in the city until it paid its obligations.
"Let's put it this way," Mayor Darrell Steinberg said. "If they don't pay … they're not coming back a second time."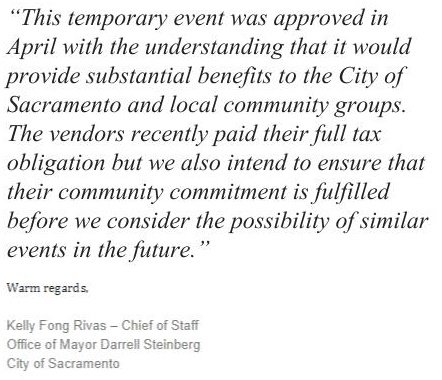 High Times withdrew an events application shortly thereafter.
Following months of delays that High Times attributed to its IPO filing, Build.Black received payment this week, just one week before High Times needs to receive approval from Sacramento regulators for an event at Cal Expo April 20-21.